This past weekend, I opened the doors of my live/work studio as part of the Bushwick Open Studios and Arts Festival in Brooklyn, New York. It was my first open studio, so I had the opportunity to plaster the walls with my art that had been collecting dust under my bed. The art I hung was the kind of artwork that I considered to be my contribution to the history of art—the work that I would want to be a part of the 'art world' and more specifically, artwork that I would submit to galleries for open calls. Here is an example of my open studio space: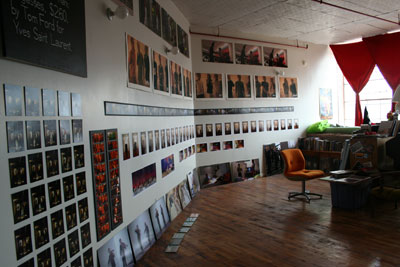 As I hung my work, I found it interesting to find myself removing other works of art that I had created. However, these works of art, for some reason, are not included in my portfolio. Now, my 'gallery art' is mainly documentation of performances and self-portraiture, whereas my 'decorative art' happens to be collages and drawings of random things. Oddly, it's the 'decorative art' that I find myself getting lost in during its creation. It is something that has no specific goal other than to explore my mind and creativity. My gallery art, on the other hand, is thoroughly planned (at least as much as I can) and must specifically state the meaning that I am ultimately trying to convey.
For example, here is a detail of my 'gallery art':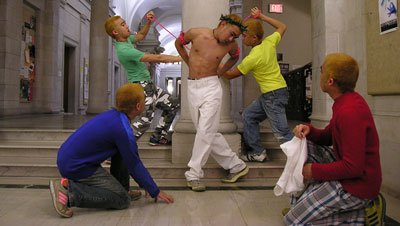 And here are two examples of my 'decorative art':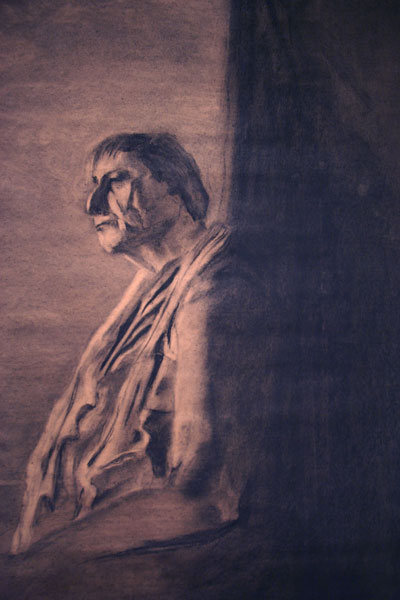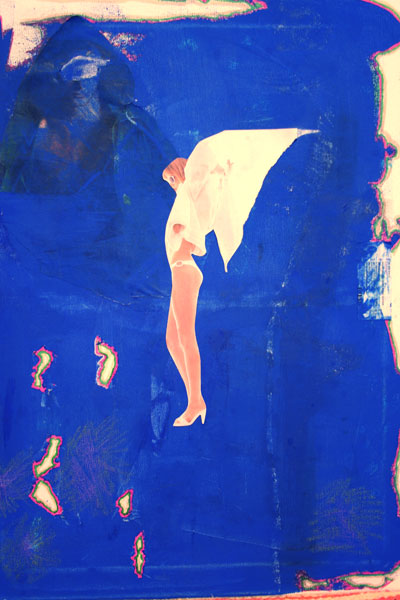 Of course it would be nice to sell some art once in a while, and I think that most people buy art because it gives them a chance to let their mind wander around something visually fruitful, but in general, I never display my gallery art on a normal day. Within my studio, my walls are splashed with a few of my own decorative art, but mainly with oddities that one would hardly consider art. Now I might be going more into an area of interior decoration, but for example, I'd rather hang my snowboard up above my coffee table before choosing to hang anything I consider my own gallery art. To me, snowboarding is so special and has a lot of meaning, and therefore, a rad snowboard is basically my kind of art. So in essence, my decorative art (collages, drawings, and a snowboard) is what I would hang up and call art, whereas my gallery art (self-portrait photographs) would be what someone else would hang up and call art.
In terms of personal choices, I think it's interesting to know what an artist considers art. Sure, an artist can define what his/her art practice and specific meanings may be and/or should convey to others, but I wonder: How different do those meanings become when they're flipped upside down and pointed back at the artist? Perhaps my disinterest in my own gallery art is the result of an overload of time spent creating it. Maybe it's the type of scenario that is analogous to 'leaving your work at the office'. I work hard to create my art, but when I want to escape, I turn to other things that have completely different meanings.