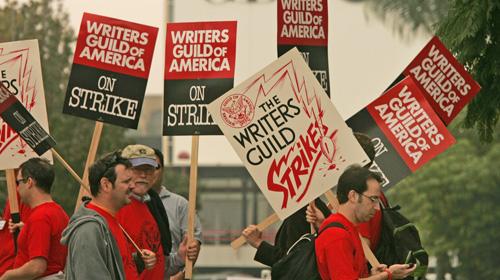 I assume most of you have heard about the WGA (Writers Guild of America) strike. I'm not sure how much attention it gets in other parts of the country (or the world, for that matter), but here in Los Angeles it's a big story. This is after all an entertainment industry town, and the effects of the strike can be felt in every part of our local economy. My wife is a writer and a WGA member, as are many of our friends.
The strike has come about because of a disagreement between the corporations who own the movie and tv studios and the writers who create their content over how much, if at all, the writers should be compensated for their creative work. The writers contend that they should be getting a slightly larger share from the sale of DVDs of the movies they wrote. From the sale of a $28.95 DVD, the writer of the movie currently gets 4 cents, or as comedian Tim Kazurinsky points out, that 's 4 cents out of 2,895 cents. The writers are asking for 8 cents.
But a bigger issue, and possibly the main one, is that the networks and studios want to pay the writers nothing, that's ZERO $, for tv shows and movies that they (the corporations) post on their web sites. The corporations claim that these streaming videos are "promotional", and that they shouldn't have to compensate the writers for posting them. But these "promotional" shows have commercials, just like any regular tv show, and are a huge source of income for the studios. They just want to keep it all for themselves.
As Mark Harris notes in his Entertainment Weekly Online column, "Why the Striking Writers Are Right":
"The problem with this position is that writers deserve a share of revenue for material they help to create. Not a share only if the revenue is really, really a lot. A share, period. If it turns out that streaming video is a goldmine, then both sides will get a lot of money. If it turns out not to be, they'll get less. Corporations are fond of reminding their employees that they're all a "family" during tough times. But when families sit down to dinner, Dad doesn't get to say, "I'm gonna eat until I decide I'm full, and then we'll see if there's anything left for the rest of you." The right of a writer to earn money from work that continues to generate revenue cannot be dependent on how comfy studio and network heads are with the fullness of their own coffers."
The studios are responding to the strike by showing reruns, and more reality and talk shows. But many of the more popular talk shows themselves will have to be reruns, since people like David Letterman and Jay Leno don't come up with all those clever lines off the tops of their heads. They are created by a staff of, you guessed it, writers. To their credit, both Leno and Letterman are supporting the writers' position in this dispute.
For the personal reasons mentioned above, and also on principle, as an artist, I'm siding with the writers as well. It seems obvious to me that the people who profit from the success of a creative product should include the artists who actually created it, not just the executives who made the phone calls and brokered the deals. I don't watch a whole lot of tv to begin with, but until this strike is over I'm not planning on watching any. I'm going to vote with my remote, and say no to corporate greed. I hope many other people do the same.
==============
Here are a couple of videos about the strike that you might find interesting:
Tim Kazurinsky on WGN
the writers of The Office