Change, the oft heard mantra of Democratic campaigners, has made an early stop in our house.
This post may serve as a small contribution to the ongoing conversation between Steve and myself about waterfalls as a cascade has here come undammed. It was time to get a new printer, and we got one. This drip was followed by a new Laptop to supplement our revered, but elderly desktop. I found that my equally elderly and revered Olympus camera could not be supported on the laptop. Not to worry as Jo received a new Canon Powershot for Christmas – but then its USB cable disappeared. Meanwhile the jewel case to my Photoshop program has itself gone missing. At this point the video card on the desktop went out, stranding my installed Olympus and Photoshop programs, leaving me with the option of buying a "new" card. These problems are – most of them – solvable with a precipitous flow of time and money. So, in the nonce, and failing anything new to show, I wish to present a little song and dance about t-shirts.
For the last four or five years I have done t-shirts for family and friends. I use simple iron-ons and depend upon humor and sentimentality to carry the day. Call it a little hobby of sorts, and different from anything else I do. So, granted my predicament, I beg your patience and forbearance.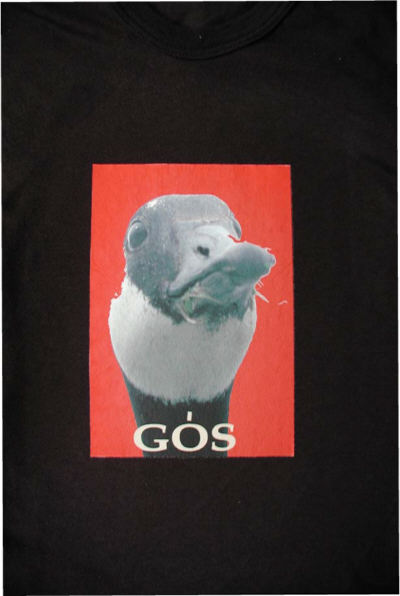 I thrust my camera at a goose and added the moniker in recognition of my daughter"s – in – law old English major.