You must forgive me if my language about SE McLoughlin Boulevard is a bit crude. I refer to the Boulevard, actually a long strip of sleazy or derelict buildings, warehouses, and defunct businesses, as "the armpit of Portland." It is fairly unsightly and often smelly.
McLoughlin Boulevard was originally US Route 99E, part of the major north-south Pacific Highway through Oregon's Willamette Valley to California. US Route 99E had its heyday just after WWII until it was eclipsed by Interstate 5, finished in 1966. Thereafter, the Boulevard, demoted into Oregon Route 99E, declined as Portland grew. The decomposition of the Boulevard, helped along by the curbing of the highway which restricted access to businesses, was accompanied by its enclosure by warehouses and industrial compounds, all gone slightly to seed. The farmland and residences that had been behind its initial length of business ventures got pretty much decimated over the years by other kinds of cheaply built warehouses and small factories.
I first learned about McLoughlin Boulevard because, when we moved to Portland 18 years ago, the Pendleton Mill End fabric store was located along it. I would take the bus to the Mill End store; to return home, I had to cross 8 lanes of heartless traffic and wait for the return bus in front of The Odysseus, a saloon and strip joint. I avoided looking at the patrons — and they avoided looking at me!
It was that kind of street — an American urban highway that makes used car lots look good.
Still, however sleezy the street has become, it still speaks to my love of urban archeology and history. Jer and I have been investigating the Springwater Corridor bicycle/pedestrian trail that has a new bridge over SE McLoughlin. The Trail runs along Johnson Creek, a major urban creek wont to flood in the wet season and stink in the dry. But between the creek and the biking trail, there is a pretty wondrous set of scenes through the Portland cityscape, including McLoughlin Boulevard.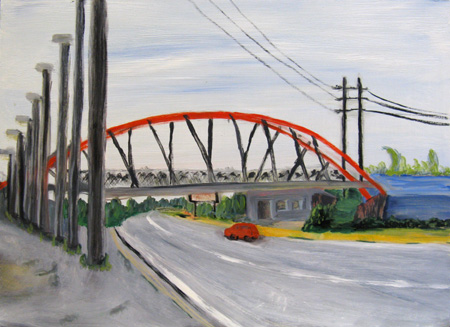 Springwater Trail over McLouglin, Oil on board, 18 x 24″