The phrase, "Sloppy Craft", the title of a recent panel discussion and a forthcoming exhibition at Portland's Contemporary Crafts Museum, had to be checked out. Whatever could it mean? How could the Contemporary Crafts Museum have been drawn into featuring sloppiness? What kind of provocation was intended by the title? What are the implications of honoring such a concept as sloppy craft for art as well as craft?  Tell me more, tell me more.
A bit of background: when I was working textiles, I regularly engaged in a "discussion" with quilters (some traditional, some contemporary) about whether the stitching work done on my textiles ( specifically in construction and quilting) should strive for perfection. I always maintained that my goal was "competence." My attention was entirely on the image and impact (on, I maintained, the art).  The craft was there only to hold it together and/or to add to the art. Hence my seams were not necessarily straight and the back of the art was decent but not flawless (I didn't bury my threads, for example, simply tidied them). I used the quilting stitches as part of the design, which meant that they were generally not even in length and that they were heavy in places and light in others; this can make the quilted art hang wonkily, requiring heroic measures to make it perform well.
This is an example of a old piece of mine that I claim has "competent" craft: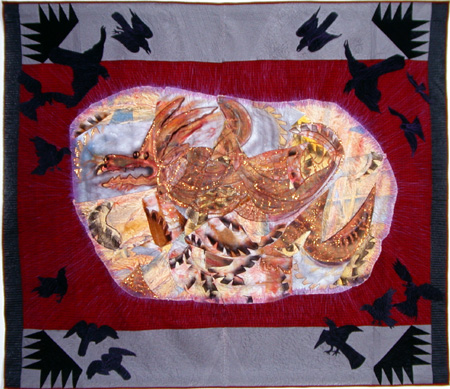 Sophie, Emerging, 84 x 73″, 2002, Materials: hand-painted cotton, canvas, silk, stretch-polyester, felt. Methods: hand- painted-and-dyed, airbrushed and commercial fabrics. Machine stitched.