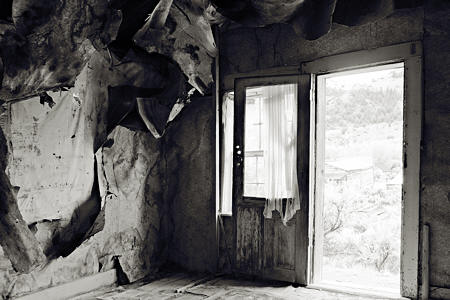 Most photos don't turn out as well as hoped for, and a rare few turn out better than expected. Some (like Colin's hands and rock last Tuesday) can be turned to a new purpose. But the accompanying image seems to have turned on me altogether.
It was made in a mining ghost town last September, where I spent about 12 hours over two visits (once under hot sun, two weeks later in light snow). I was busy but unhurried, and the experience was entirely peaceful. I loved the light reaching into the rooms and hallways of the abandoned buildings, and I was thinking about that more than anything. It's sometimes said that light is the only subject of photography, and it felt true then.
Developing the images later on my computer, I realized that beyond a feeling of nostalgia or mystery, many had something faintly (or not so faintly) sinister about them. I hadn't been aiming for this effect, it just seemed to appear as I looked at the images ready for a first print. The image here, taken inside a shack built into a hill, elicited the term "violent" from a photographer friend, and I had to agree.
I'm really not sure how this came about. Am I inventing things that others don't see? Is there inevitably a dark side to pictures about light? Was I so entranced by the light I just didn't notice what was happening in the dark? Is it just poor preparation, led astray by my appreciation of darker tones — though the image shown is actually a bit lighter than my first version? Perhaps — an idea I rather relish — I have unsuspected psychological depths that are making themselves manifest…
I am interested in any thoughts you have on the image or the idea of light/dark in art or mind. Know of any similar pictures? If you'd like to consider a larger context, a dozen other photos from the same location are on my website. And if you want to adjust your monitor to show detail in both highlights and shadows, make sure all steps of gray are distinguishable on this test image.
I'm also wondering how often it happens to painters or other artists that one is surprised, looking back on a work, to discover something quite unintended. As a painting or quilt or whatever takes more time in the making than a typical photograph, and may entail more active decisions regarding content, is the chance of later surprise any less?
I will be checking comments intermittently, and will respond to remarks directed to me (or not!) when I can. I do work a day job…