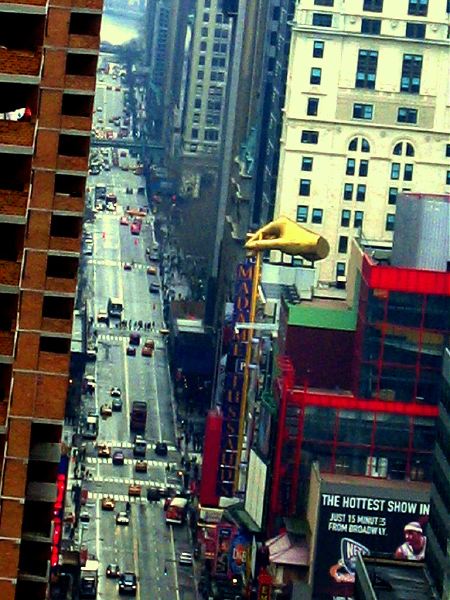 Like many of you, I have a hobby. It's not an unusual avocation. I take photographs. I was born on Manhattan island and have lived my entire life in this astonishing feast of visual diversity and eccentricity. And as a native of this town rather than a tourist, I enjoy the luxury of time allowing me to see far beyond the skyline, the great buildings and the rich tapestry of glamorous tourist attractions. Since childhood I've carried a camera. I've always been fascinated with the minutia of this city, those details that few notice: shapes, colors, light, broken windows, architectural and design quirks and the strange visual synergy of so many cultures on one tiny river island.It has been my habit for many decades to occassionally spend a very private and spiritual Saturday roaming some corner of Manhattan, using my camera to capture a reflection in a puddle, the intense juxtaposition of colors and architectural styles on a street corner or sometimes a funny moment in someone's life. The experience has always been very private and a very special few hours allowing personal reflection and a very special kind of connection with my hometown.
I rushed out this morning, Saturday, January 20 simply because it was the coldest morning of the winter, a winter that has been bizarrely and constantly warm, warm enough to keep my seasonal hay fever active far beyond November. A crystal clear frigid Saturday morning would surely deliver funny coats and hats and wonderful games of light and color. Between taxis and my feet, I covered parts of the Financial District, Chinatown, Little Italy, Soho, Noho and Union Square. But for the first time in my life there were many parts of these neighborhoods that I could no longer cover and where my camera and I were no longer welcome. I was tempted to post my photograph so that you could determine for yourself just how much I resemble a threat to democracy and freedom–but that's probably not wise. Suffice it to say that I am a 58-year-old very white, bald, Jewish, Gay New Yorker with a very neatly trimmed silver beard. I was wearing an $1,500 Italian dark green leather and fleece coat, a black cashmere scarf and a matching black pull on cashmere cap. I looked like your typical over-paid and perfectly stylish self-indulgent New Yorker on his way to or from a chic brunch. Today's weapon of choice was my Canon Digital Elph with optical zoom.
However, to members of the New York City Police Department, several doormen and a couple of security guards, I looked like none of the above. I looked like a terrorist threat. Clearly, a lone man photographing details of buildings from various angles and wanting to enter lobbies of city landmarks to photograph cherubs, statuary and mosaics is now assumed to be a threat to the safety and security of our fair city.
I'm a photographer. I'm an artist. But such explanations no longer fly. I was denied entry to the lobby of the landmark and fantabulous Woolworth Building. I was asked for photo ID in front of a Soho luxury condo. Two of New York's finest approached me in front of a Prince Street church and asked me to please "move on." I explained who I was and what I was doing. The response was a second "please move on." Two security guards asked me why I was photographing crowds shopping the stalls on Canal Street. Why is it any of their business, I asked? "Please move on."
Perhaps on my next outing I'll rent a wife and a child to walk with me so that everyone just leaves me the hell alone. But the terrorists are probably already employing that ruse, so I might get shot.
The sad truth is in the details. How has 9/11, Homeland Security and George W. Bush changed our lives? Ask a guy who just likes to take pretty pictures for his own pleasure. Ask a guy who has lost the freedom to spend a Saturday by himself in the peace and beauty of his own world, a world that is now ridiculously interrupted by officious men in uniforms and requests for photo ID.
Photographing the details of Manhattan used to be a very enriching hobby, now it's a awkward negotiation through a maze of uniforms. I know. It seems to be a small price to pay for our freedom. But this morning I found myself asking, "What freedom?"
You'll find more examples of my freedom-threatening work here.