Current Affairs at the Bar
Art and music for me combine magically. Over the years, my experience in meditation has also brought my mind closer to breathing music so that it can flow through me in my art. Now music is integral to my painting process. The art produced is the output at the end of each audio journey. The art is not the music or the journey; it is the visual experience resulting from the mixture of the two.

Enlightened Gesticulation
I work on canvas, the larger the better, and choose music appropriate to the mood of the art to be produced, to the state of mind required and to my perception of the piece to be painted. I use the music to develop my characters of light, dark, shape, form and texture to unfold just like in a movie. And for me the director of each work, the music is the soundtrack. Just as on screen, the music helps to hook the viewer into the feelings and emotions of the movie, the soundtrack I work to, locks me into the full artistic depths within to let them emerge on the canvas. The process is not trance like just in case you wondered, if anything, it is with the single pointed concentration as used in meditation and with total clarity of thought, undistracted.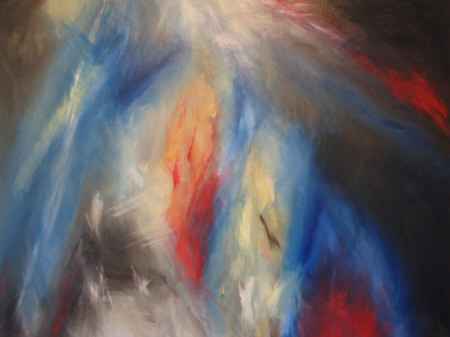 Irasshai
The music flows, my art flows; the paint, the palette knives, the brushes all dance and glide with the audio journey. I tend to try and use music which is mixed, DJ'd, or collections of music that are engineered in an order that has some purpose, a journey, rather than disjoined random tunes. This means that I can get into a seamless flow of energy. The result in my paintings is an encapsulated artistic passion and compassion; an outward creative reflection.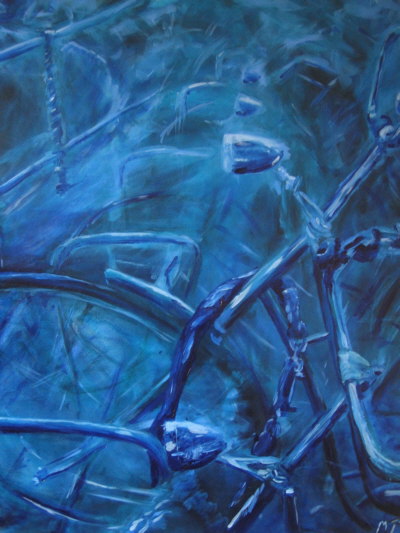 Rack
I am happy to email JPEGS of my work to interested parties, as these show the greater detail and texture. More examples of my work can be seen in my online gallery at www.ifitrains.com. Any comments or questions are very welcome.