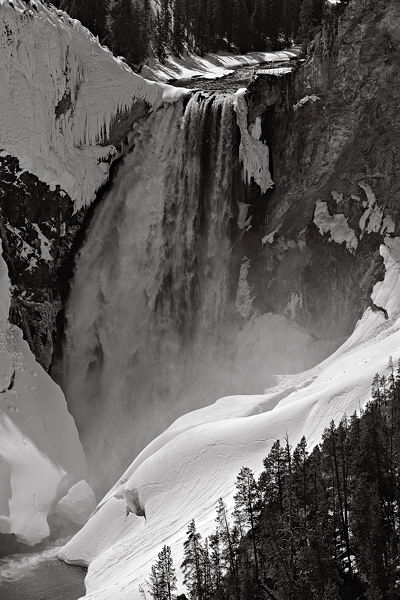 On my last waterfall post, I claimed I had just started making waterfall photographs less than a year ago. But later, going back exhaustively through my files, I discovered the one above from just over two years ago. It show the Lower Falls of the Yellowstone, an extremely popular subject for all kinds of image-making. That would normally be enough to rule it out for me, but there was nobody else around, I had biked 40 miles in freezing temperatures to get there (snow permitting, Yellowstone is open to bikers a few weeks before cars are allowed in) and I wasn't about to bike back empty-handed.
Viewing the image later, though, I had no idea what to do with it. It didn't seem to fit anything that made sense to me. I sort of liked it, but couldn't figure out why. I not only didn't print it, I never even tried processing it (developing the raw image toward something presentable). So it's no wonder it slipped from my mind.
I was not only shocked to rediscover it, but excited to have found an image like this from so early (second time around, that is: I had a previous fling in photography followed by a long, long hiatus). It seems a harbinger of my evolution towards flat, abstract compositions reminiscent of Clyfford Still paintings, as discussed before. It is not as flat as later ones. It has a layered spatial organization, but is tending toward flatness in that the layers have very different tonal ranges, making them less related in depth and more like independent shapes.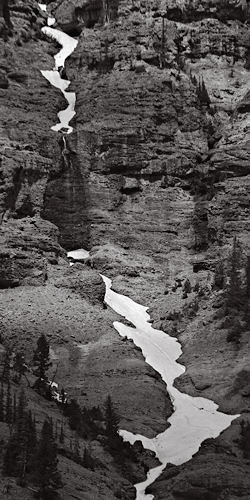 A few weeks ago I made a rather different kind of image (above), in which I was mainly interested in the broad, varied line of snow going down the crack (the waterfall is mostly a dark, wet patch on the rock wall in the middle). Turns out Still had been there, too.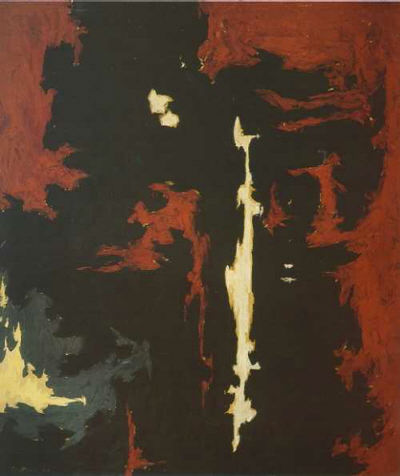 Clyfford Still, 1949-A No. 2
My most recent waterfall work is influenced by reading Frank Stella's thoughts on creating a space that is more three-dimensional, especially one that reaches out to contain the viewer. I think the last waterfall from my previous post is more like that. Along those lines, I'm wondering what you think of the following three images of Lost Creek Falls in Yellowstone. In particular, which one or ones give a stronger feeling of 3D-ness? Or put another way, with which do you feel more as though you are a part of the scene? I know it's difficult to get the right effect from tiny images on a computer screen, but just use your imagination and try your best! I'm not claiming that any of them succeeds at all, I'm just wondering how other viewers perceive them.