As I have indicated here before, I revel in painting faces of our fellow human beings. I am not too sure when it first hit me that painting a face might be a good use of my 'art' time, but having hit upon it I find that I am enjoying myself immensely. During the process of developing the face, creating the contours and laying out all of the attendant features, I find that I manage to understand the subject better, appreciate the minute topographies that make up our faces and slowly begin to have a deeper understanding with the individual that I actually lay out on the canvas. Sometimes the face serves for storytelling – tales of deprivation, surfeit, defeat or hubris can be found. Sometimes it is the emotional expression that catches me – surprise, envy, disdain and every once in a while plain indifference. Oftentimes I also find myself reflecting on social problems that may have translated into these expressions of want, fear, hate and need etched on individuals face. Every once in a while I find myself musing on potential solutions to some of the vexing issues that these individuals might have faced in their lives. The headwater of photographs and 'found' images of individuals in the media serve as a source that is constantly replenished. Lately, I have been branching out a bit and photographing people myself, but that is for another post.
As far as influences go, I have a little list of artists whom I tend to idolize and wanted to share this with you…
I have great respect for Lucian Freud. His faces combine a sense of psychological tension interspersed between physical characteristics that make up his faces and seem to just simmer below the surface of the paint layer. He is famous for the usage of the hog hair brush with wide bristles dripping with thick dabs of paint help bring out the both the physical and psychological characteristics. His techniques look deceptively simple – simply load the brush with appropriate shades and dab the canvas with quick powerful strokes that blend into each other – but the overall integrity that it produces is a visual treat…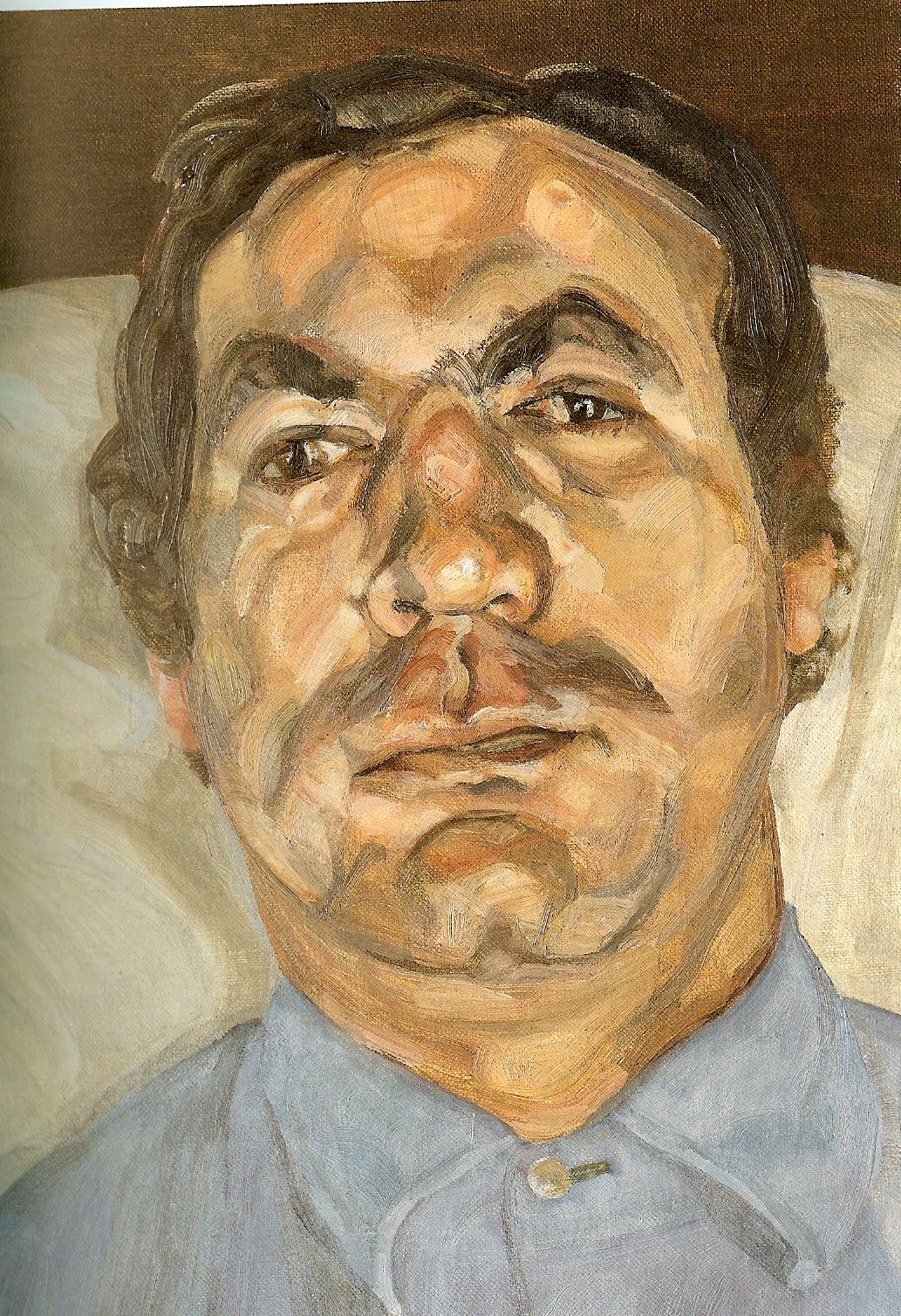 'Head of a Man', Oil on canvas, 1968, 13 X 10 inches, Artist: Lucian Freud
Frank Auerbach is another painter whom I admire. He has a unique style that consists of a happy marriage between simplicity and abstraction. Auerbach also tries to blend in the physical characteristics with psychological undertones resulting in a poignancy that stays with you long after you left the painting. I also know that he does not use any kind of preparatory sketches and his heavy use of impasto almost make parts of the paintings seem three dimensional. In fact there were reports that a few of his paintings were displayed flat on the ground for fear that bits of the paintings would break and fall off.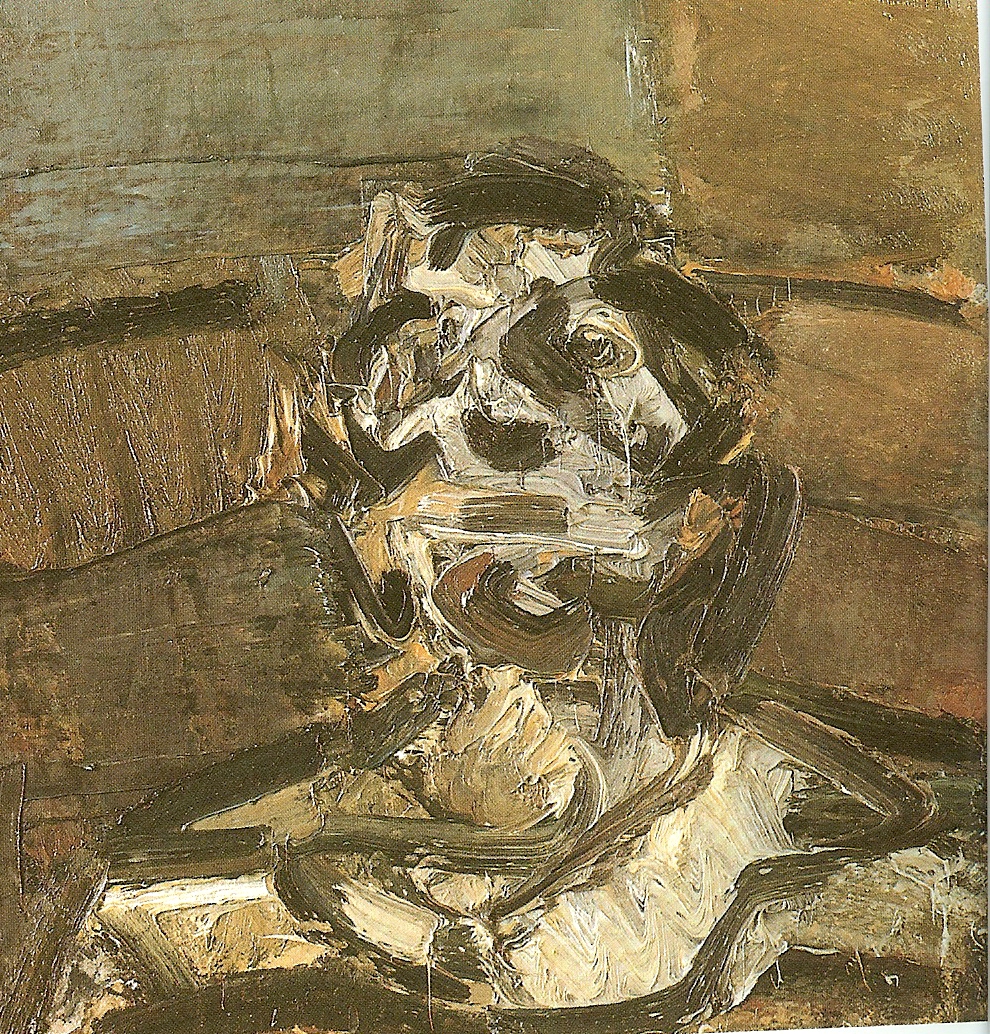 'Head of JYM', oil on canvas, 1982, 64 X 60 cm. Artist: Frank Auerbach
Another person whose works I study a lot from is Martin Schoeller. He is a person who in his photographs manages to inculcate the effects of truth and glamour (two normally immiscible qualities) into a generally unified portrait. He always manages to render even the greatest amongst us in all their glory juxtaposed with their attendant foibles.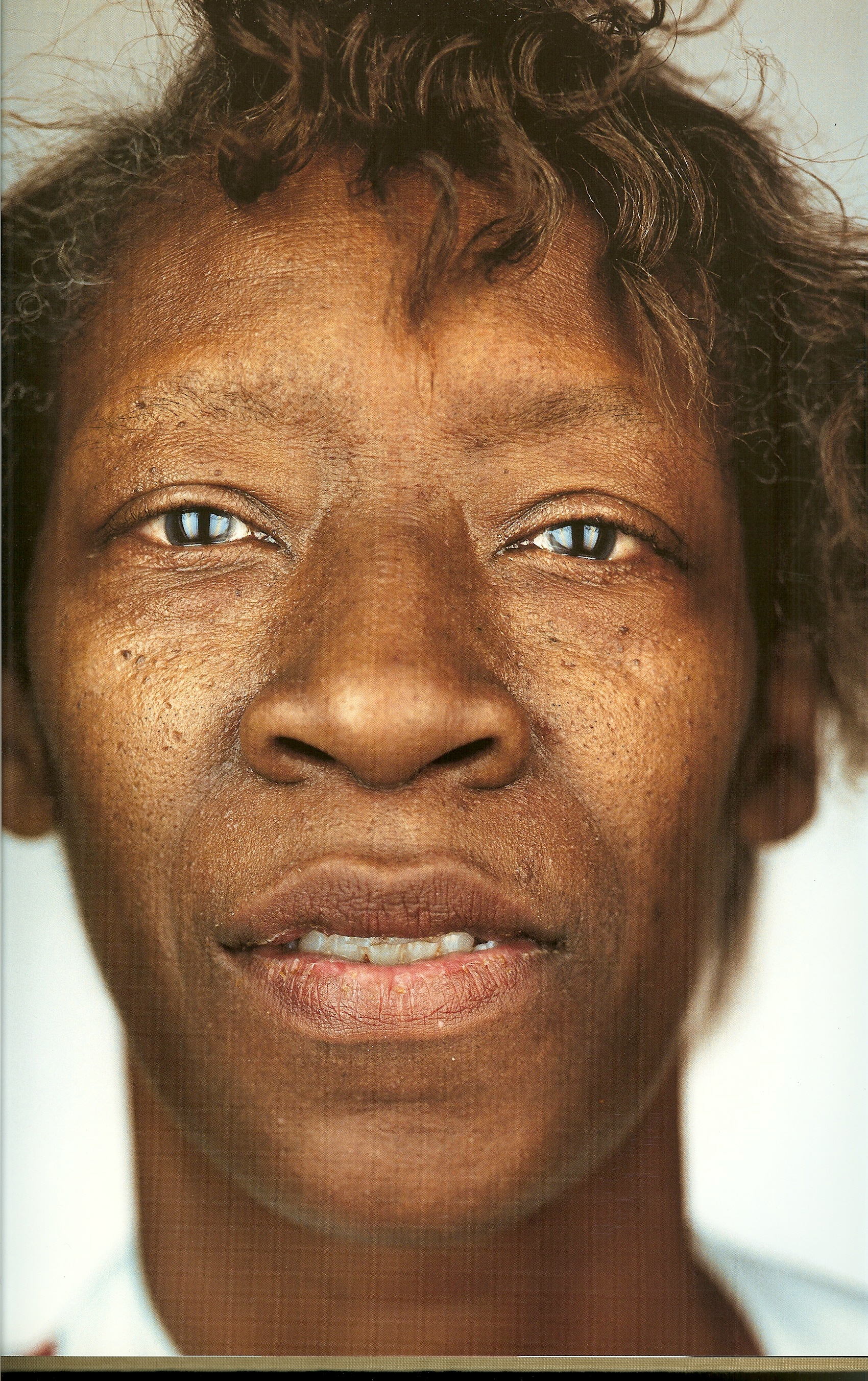 Harriet Sykes, 2004. Color print. Artist: Martin Schoeller
I also find Ron Mueck's sculptures to be extraordinary. Firstly in their stunning detail, secondly in their impish expressions that seem to hide deeper truths and emotions that we are not privy to… He is said to slave and labor over each of these masterpieces for months before completing one of them… He initially works on a series of small plaster maquettes that allows him to study the possibilities of positional geometry, then manages to sculpt the figure in clay, overlaying the clay with wire mesh and shellac. The 'skin' finally comes on as a coat of silicone or fiberglass.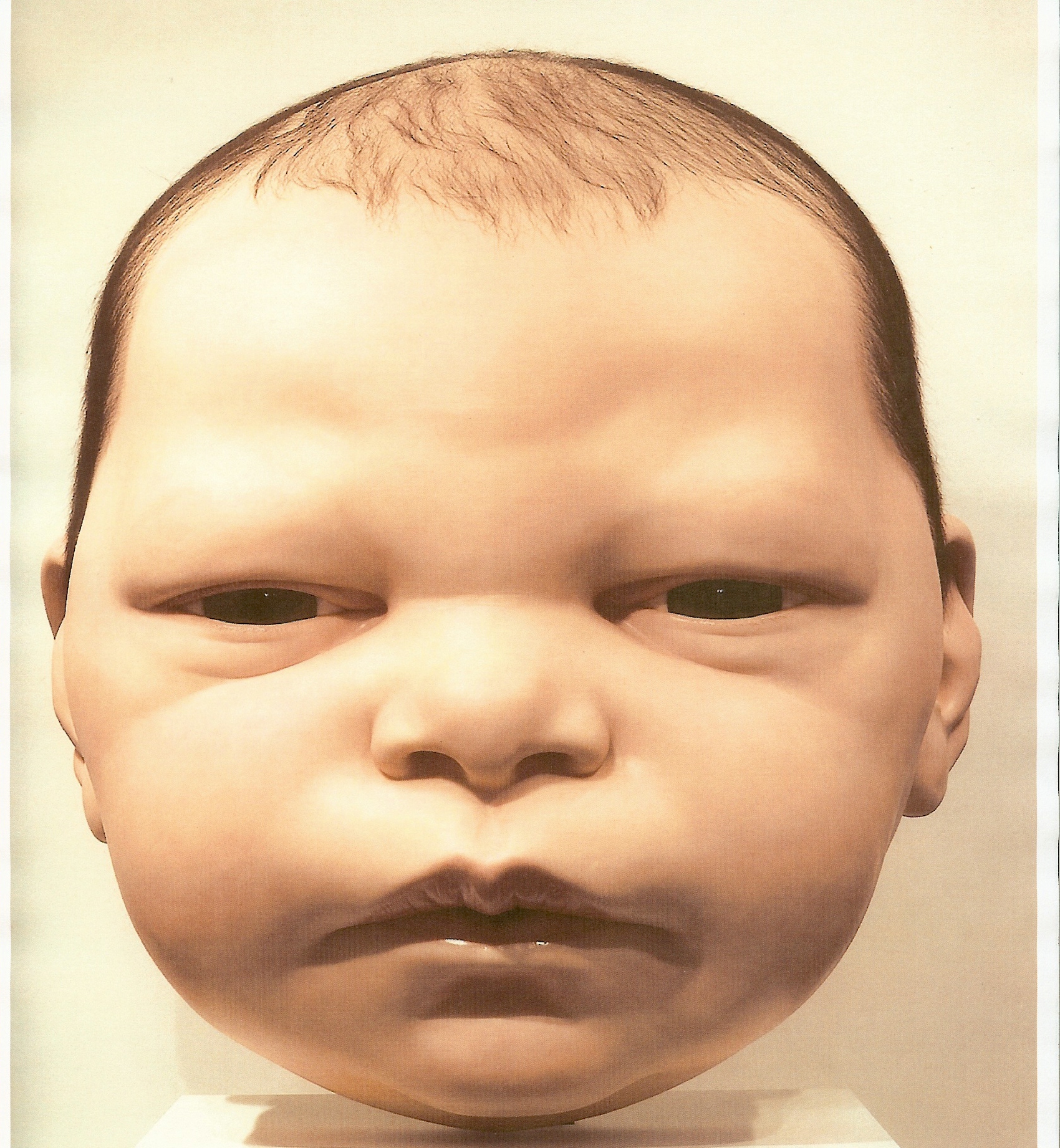 'Head of a Baby', 2003, 100 X 86 X 93 inches. National Gallery of Canada, Ottawa. Artist: Ron Mueck
I also find myself salivating over Albrecht Dürer's faces. The power in his faces come not just from the masterly composition but also derive a lot from the regal stature of the sitters that he selects for his works. The power of Dürer's umbers, browns and flesh tones are simply stunning.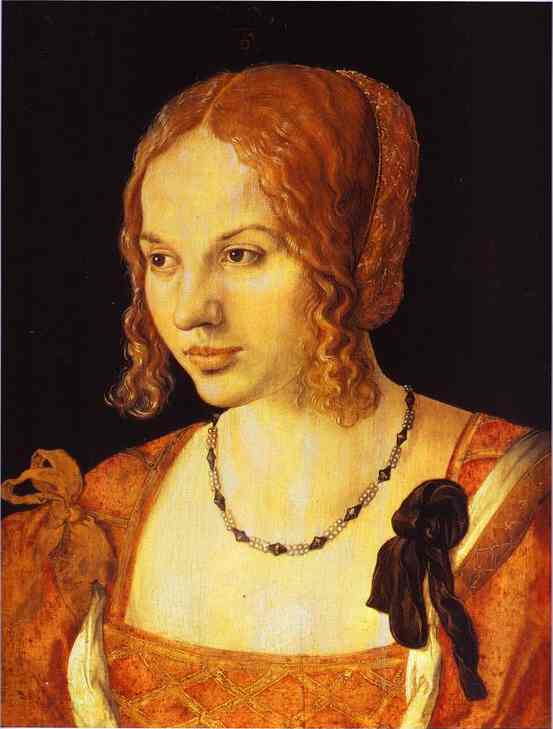 'Portrait of a Young Venetian Woman' 1505, Oil on panel. Kunsthistorisches Museum, Vienna, Austria. Artist: Albrecht Dürer
I did want to go on and mention Domenico Ghirlandaio and Flickr photographer Walter Callens (who happens to be one of my favorites) and so many others but I don't want you asleep at the end of this post.
I thought I will end this post with a painting that I did a couple of months back…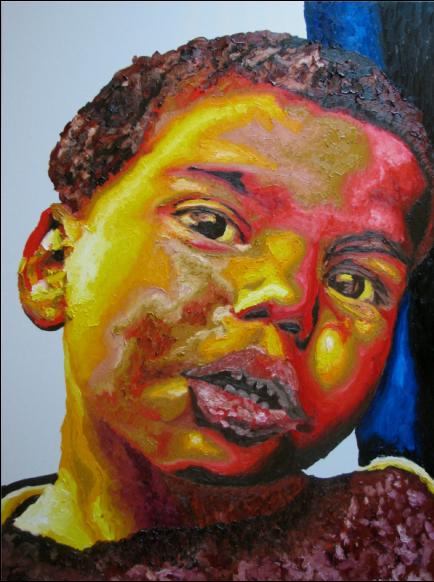 'Stomach Clock', 2007, Oil on canvas, 36 X 48 inches. Sunil Gangadharan
 
What I find sad is that painting of faces is on the decline. What do you think?
Maybe it is the fact that we are so tired of each other that the only time we plan on doing a portrait of someone is when s(he) is dead or is leaving an important office/position… Maybe it was the advent of photography that heralded it – why paint a person when you can take an accurate photograph of the person and frame it? Add to all this the advent of computer based touchups of photographs and giclée printing obviates the need to paint faces anymore…
I sometimes scan listings of many auction houses (they are a good indicator on the public likes and dislikes) and also gallery offerings in New York (another good indicator of what the art market is up to nowadays) and I rarely see any form of artwork that celebrates the one thing that we never try and hide – our faces…