June wrote recently about the story we tell of our personal history in art. On a smaller scale, there's the story of a particular idea or even a single piece. There may not be a coherent tale in most cases, but it happens that there is (or I think there is) in the case of several photographs I made a few days ago.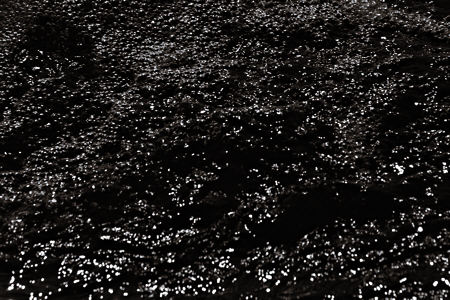 Hiking with visitors last week, I finally got into the mountains for the first time this summer. Because of the long snow season, waterfalls were running fuller than I've ever seen. Despite my predilections, the second day found me standing among waterfalls uninspired. So I played around photographing the water on the lake, looking at ripple patterns reflecting the sky. I moved to where these were shaped by flow around a rock, breaking into smaller fragments with the turbulence. From there, it wasn't long before I was back at a fall. But now I was interested in the instantaneous constellations of bright points, rather than the veils woven with longer exposure. My eyes, being slow, still saw more the latter, but the former could be captured by the camera using a short exposure time. It saw, while I imagined, a starry cosmos.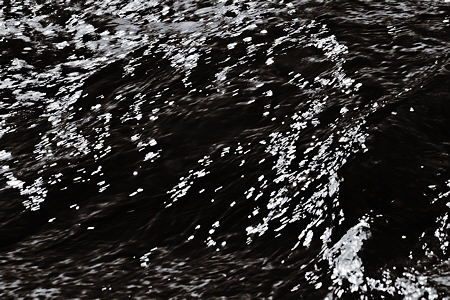 I recognized right away that pedigree of this idea went back well beyond the day's play. I think the notion of stars in such a setting first occurred during experimentation with Jay's stream photograph. And thanks to this blog's search function, I found I mentioned "constellation of streaks" in a waterfall post a year ago. Once I even discovered a "star" in a frozen waterfall. Still, despite other recent opportunities, I don't think I ever explicitly made the waterfall-cosmos connection. Once conscious of it, I made further photographs with that image in mind. Not many that day, but I'm sure I'm not done with it yet.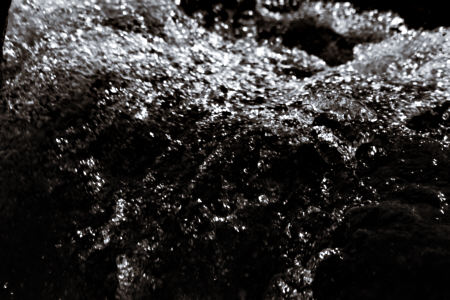 What similar sorts of connections or metaphors or insights have come to you while making art?