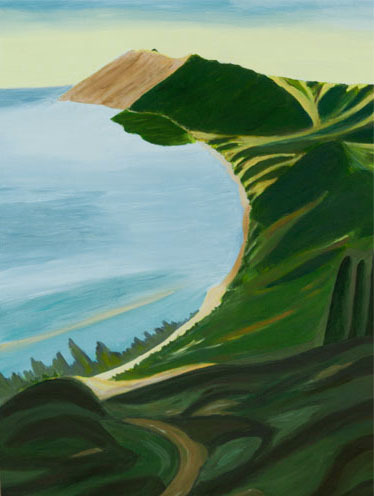 View from Empire Bluff, Sleeping Bear Dunes, Michigan
oil on maple, 24 x 18 inches.
This spring, I started sketching landscapes on paper rather than only photographing them. My first motif was the view from a bluff. Doing an oil painting on site would be cumbersome because it would mean dragging supplies uphill along a 20 min hike.
Hoping to get help in understanding the contours of the dunes, I started reading Philip Ball's trilogy on 'Nature's Patterns: a tapestry in three parts'. In the first chapters of 'Shapes', Ball talks about Rene Binet's design for the entrance gate to the World Exposition of 1900 in Paris that was inspired by the radiolarian drawings of the German biologist Ernst Haeckel. Apparently, Haeckel was both influenced by Art Nouveau and its German equivalent 'Jugendstil' and influenced it in turn. Ball continues writing about the projective geometry, physics and chemistry of soap bubbles, hexagonal honeycomb patterns and 'ideal foam' portrayed in the swim center for the 2008 summer Olympics.
After painting the distant 'Bear' Dune and the calm, glassy-looking water from my sketch, I started on the foreground. Frustration set in.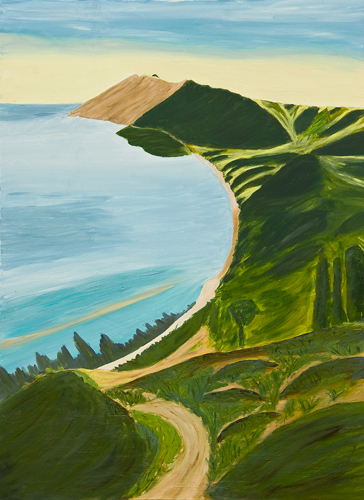 In middle May, the early morning sun had thrown deep, dramatic shadows over the smallish sand elevations which I had failed to sketch in with enough detail. By now, in June, the early morning sun illuminated yellow-green vines and blue-green grass in the foreground that were too complex to fit into my painting.
To seek inspiration, I looked at one of Cezanne's painting with deep shadows in the foreground: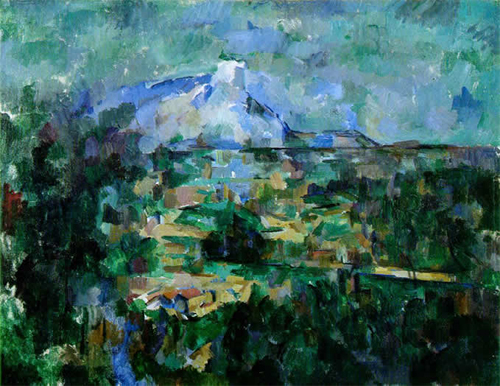 This helped me to change the foreground as seen as the first illustration in the post.