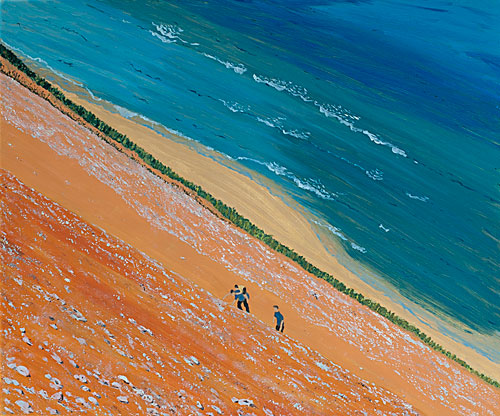 oil on basswood, 20 x 24 inches
Monet painted outdoors. A servant carried his paints and canvasses when he worked away from his house. At home, he diverted a stream to create his famous lily pond. A gardener kept its surface pristine, free of rotting leaves and insects.
Today, some painters work from photographs. Gerhard Richter painted from family photographs or obtained permission to paint from photographs in newspapers or journals. Peter Doig's subjects, as FT.com puts it " figures, buildings, landscapes – are stolen images (often carried around found for years on paper or in his head) knitted together into an imaginary world".
Like other artists, I also prefer to paint from photos – recently, my own, while earlier, I made montages combining my own photos with images from the web. Enjoying hiking and photography, I now go out hunting for motifs that appeal to me.
Here is a scene from the Sleeping Bear Dunes. Brave people run down the 300 ft high dune, and, as you can infer from my painting, climbing back up is a different matter, especially over the hot sand at 1:30 pm in early August.
A few more excerpts from the ft.com article on Doig who works alone in contrast to many artists who employ legions of staff:
"Besides, I'd hate to have anyone else in my studio, because then I'd have to do something like … paint. I don't want that. I don't want to be a business. I like painting because you can go in and out of it; the simplicity, the directness, the dabbling quality".
And, "Painters enjoy the rawness in historic painting, and the invention. That's what you see in Goya, Velázquez, Picasso, Bacon, Matisse, Munch … even early Pop art. That's what's lacking in contemporary painting. It's become very refined. I don't think there are people taking risks."
Finally, a comment that I am musing about,
"I've realised what I like in other artists' paintings is when they've been left open and not shut down. I'm learning to do that. A painting is a living thing. It's finished when it's let go, when it's out the door."
Doig, born in Scotland, lived as a child in places with diverse climates such as Canada and Trinidad, went to art school in London and now lives again in Trinidad. His art education may explain why he first became popular in Europe with shows in Frankfurt, at the Tate and now in the London Michael Lerner gallery. In NYC, his pictures cannot yet be viewed in museums – the two owned by the MET are not on exhibition. But that may change as Doig has now acquired a studio in NYC in addition to his studios in London and Trinidad.