About a year back a young curator named Chris Gilbert resigned from his job at the Berkeley Art Museum, California over a disagreement with senior museum officials over some 'politically incorrect' words that he used to describe the exhibit that he was curating. I am sure that this is old news to all of you, but what got me thinking about one of the functions of art was through reading a contemplative piece in the Times where author makes the following observation: 
Two concepts of what a museum should do — and be — crystallized and clashed, with Mr. Gilbert's view by far the less traditional. To him, art is an instrument for radical change. The museum is a social forum where that change catches fire. The curator is a committed activist who can help light the spark. The goal is to transform the values of the culture that had created the museum. If in the process an obsolete museum went up in flames, a new one would rise from its ashes.
This post is not to resurrect Mr. Gilbert's politics or to rake up old wounds but to discuss about how many of us truly believe that art currently is functioning as an instrument of radical social change (if not radical at least some social change). How many of us believe that art educates us and chides us on our society's little foibles? That the value conferred by art can be measured more by its inherent beauty / message than by the greenbacks that it can command?  
In fact, the more successful a museum grows, the more elitist it tends to become. Social distinctions based on money and patronage can assume the intricate gradings of court protocol. At street level, admission prices climb, reinforcing existing socioeconomic barriers. Programming grows more cautious. If you're laying out $20, you want to see "the best" art, which often means art that adheres to conventional versions of beauty, authority, "genius" (white and male) set in a reassuringly familiar context.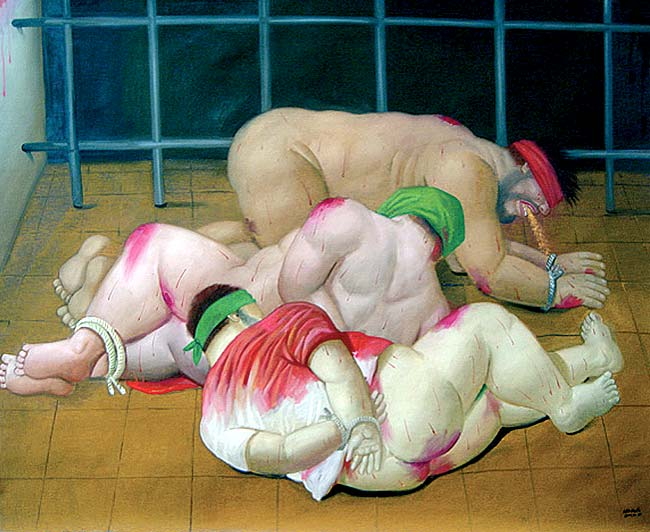 Painting by Fernando Botero; Title: 'Abu Ghraib'; Material: Oil on canvas
Sculpture by a contemporary artist: Title: 'Domination'; Materials: Railway track, wax apple, plastic crocodile and glue.
I would be interested in your thoughts…