Probably because I grew up in the careless and tasteless 1950's, before Lady Bird pointed out that the landscape was filling with garbage, but after logging and poverty had been pretty well trashed my neck of the woods — that is, because I had a visually impoverished childhood — I find living in this city a continuing visual delight.


Even the rain has its moments.
So I thought for as a bit of thanks-giving, I would meander around Portland Oregon, pointing out the sights that I like. Some of these are constant public presences, like the statue of Harvey Scott in Mt. Tabor Park. Scott was a city "father" as well as an anti-suffragist newsman. (I keep scheming of ways to bring his perfidy to the attention of the city mothers).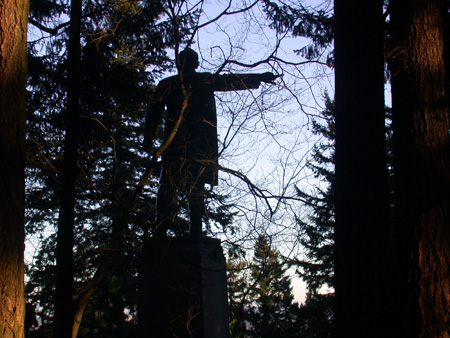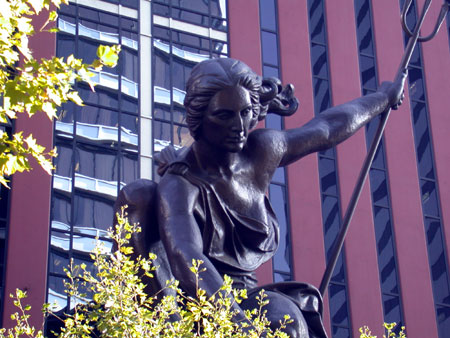 Some of the things I love were obviously planned by good designers, but some happen just because I was there at the right time.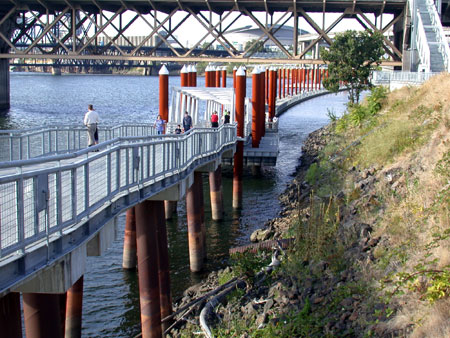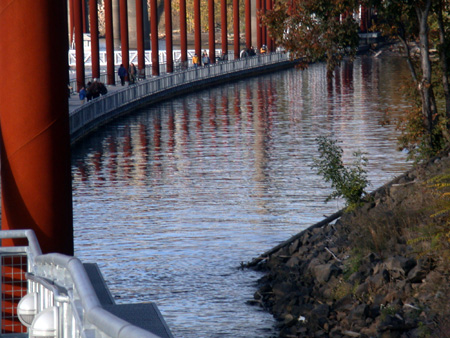 When I started thinking about this, I thought I'd divide the photos into "public" and "private" but I quickly lost track of what those divisions actually meant. Every photo I took was something open to the public, and many of the items were put together by public groups (if not publicly funded). But all resulted in my public — and private — enjoyment.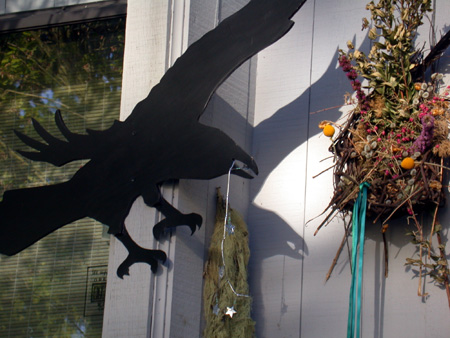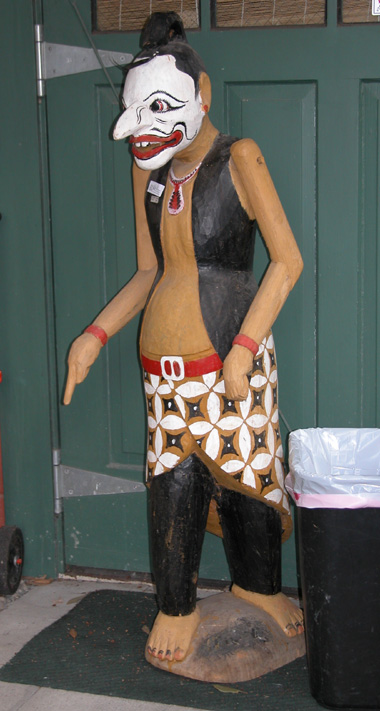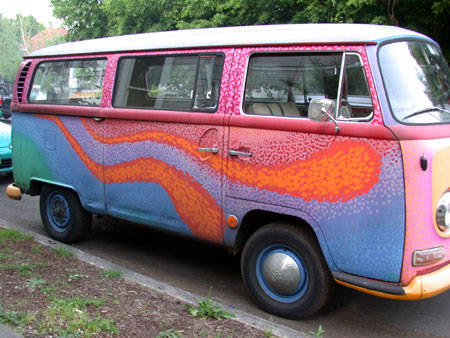 It's not that I'm so solipsistic as to believe that Portlanders were thinking of me when they polka-dotted their VW buses, but rather, I believe that the spaces that we have in common, even if they are privately held, are seen in this city as having public ramifications.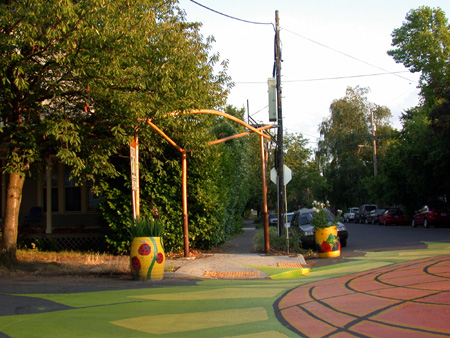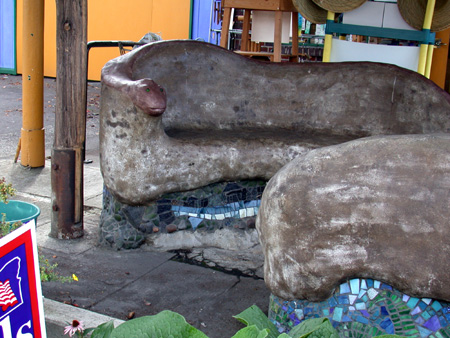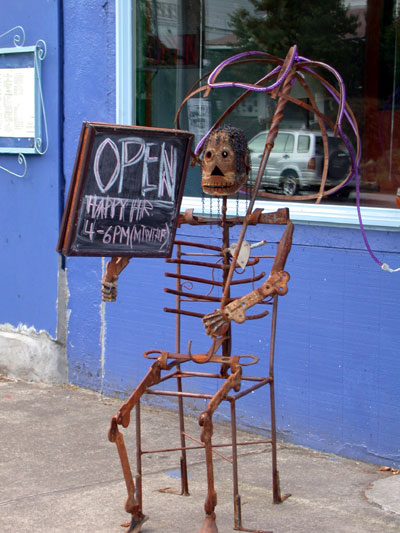 Of course, there's the house pride that makes my streets charming: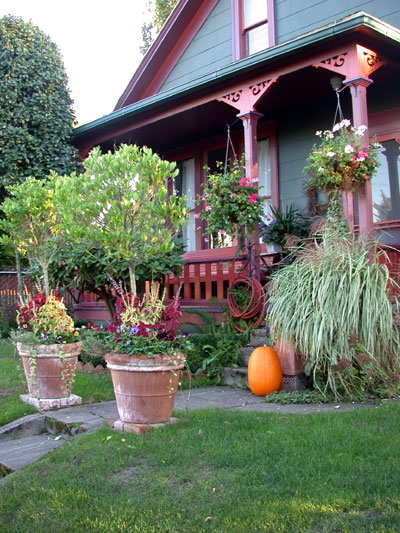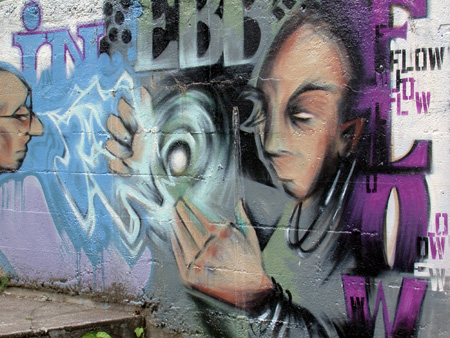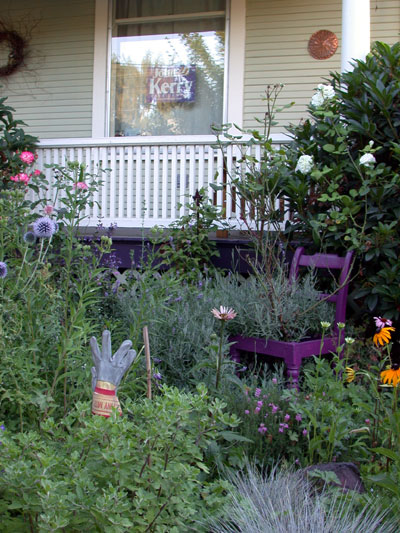 And the rusting scupture below, on the Eastbank Esplanade, is one of my favorites. It's underneath both an interstate highway and the Morrison Bridge (one of seven that links the plebian eastside of Portland to the toney west). The sculpture is one of my favorites in part because it's part of a serendipitous photo that I took. Here's a rather ordinary view: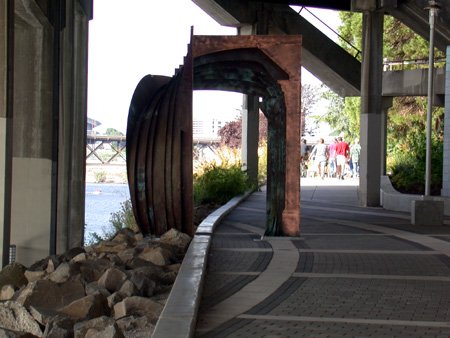 But here's another photo of that sculpture, taken from the opposite direction, that I return to often: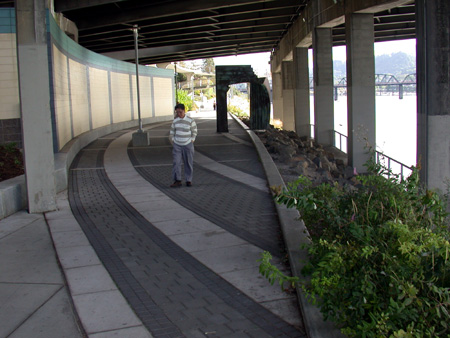 Some places I walk by change frequently. This rather kitschy scene is a memorial to a bicyclist killed at this corner by a car, and different items appear on it almost daily. They are all somewhat tacky, but poignant in the way of memorabilia. I like thinking about the intimacy of this memorial against the pomposity of my friend on Mt Tabor, pointing the way out of the city.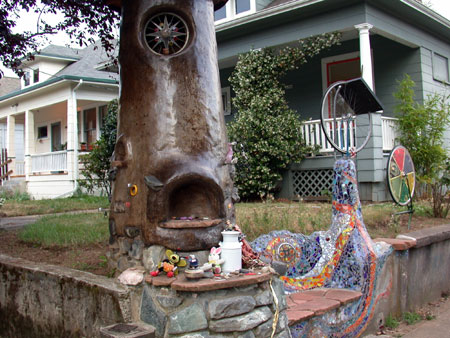 And finally, here's another place that changes frequently, another one that I make a point of going back to often. It's a poetry place, maintained by a householder who also conducts writing workshops. Poems appear here, some on paper, pinned to the bulletin board, some laid under rocks to hold them down, and some printed on other material.
Who remains standing?
First,
Erase your name,
Unravel your years
Destroy your surroundings,
Uproot what you seem,
And who remains standing?
Then, rewrite your name,
Restore your age,
Rebuild your house,
Pursue your path,
And then,
Endlessly,
Start over, all over again.
Andree Chedid
Egyptian poet
I suppose this meander might bring questions to mind:
What are the human elements of your milieu that please you, that you return to again and again, that, even if they aren't aesthetically pleasing, please something in your psyche or mind's eye?
And have you ever started over, all over, again?