In light of Sunil's posts in which he displayed photos of a number of items about his household and, subsequently, led a discussion of Photoshop methods, I will add one of my own.
Each year we get a conifer and cover it with a grab bag of ornaments, many of them home made, which together form a gathering of memories and associations. Throw in some beads and wheat bulbs and we have something that, while something of a jumble, is just fine for us.
This year I have tried taking some shots of the tree for further manipulation. The re-shaping has been modestly tonal and chromatic, with an occasional wave of the magic wand. As has so often been mentioned in this blog, continuing to focus on a motif can and will lead to new visions. I have always accepted our trees as apparitions of an inside-out nature, glowing from within as they present various surface effects – all merry and light. This year the tree has been lurking at me, perhaps the result of some of my recent reading and viewing. I have approached the images in this mood.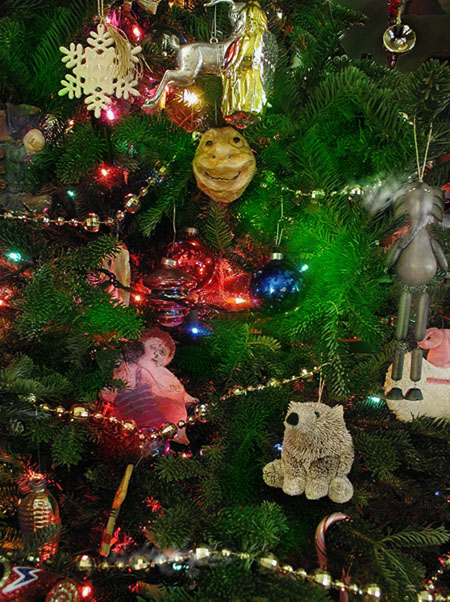 In this more generalized view we find themes including the carnal and the carnivorous.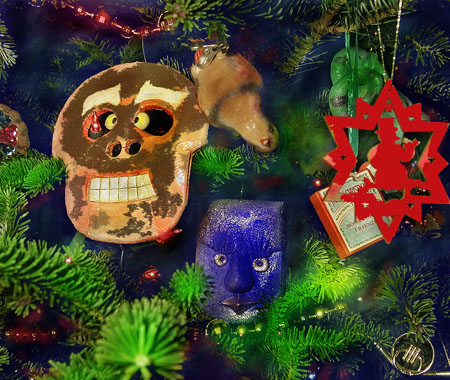 Trees of this sort go back to times when anxiety about forest dangers were rife. The act of adorning may have symbolized a taming of the primeval.
The ornaments float on darkness. As happened with the waterfalls, I may have introduced a little personal template into these images.
Did you put up a tree?