I have been interested for some time in exploring possibilities for interesting texture in my photographs. One idea was to print on hand-tinted paper; that's still under investigation — rather back burner at the moment. Another is encaustic medium, i.e. wax or something similar applied over a photographic print. I've made one small print by that method, and am definitely still experimenting. But photographing horses recently, I discovered a new strategy:
falling snow + moving horses = hatched textures.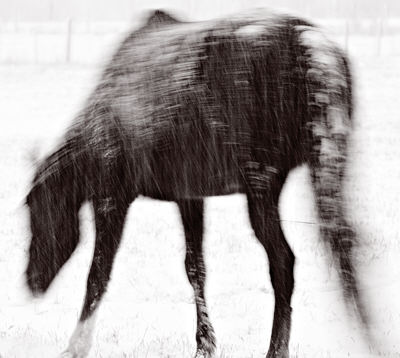 The effect reminds me of etchings, although it's actually more the reverse, in that the hatch lines are light, rather than dark.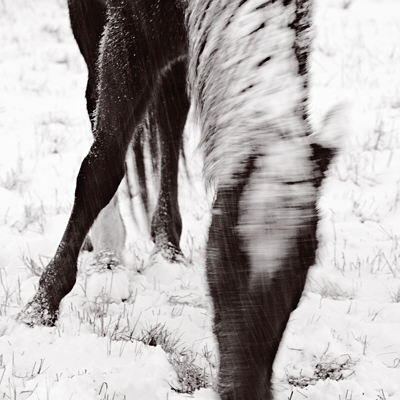 As often happens, I didn't really become aware of this until processing these images today (the outing was a week or two ago, but my computer has been down recently). I have, of course, photographed horses in falling snow before, but I just didn't consciously think about the resulting texture and how it could be used. And it's much more prominent in my current close-up approach than in previous work. Hopefully we'll have more snow soon, so I can go back and play with this phenomenon more intentionally.
Made any serendipitous discoveries lately? How long did it take you to realize it?