Pine Creek Gorge, photo from Wikipedia Commons,  Commons licensing
I have been violating one of my basic principles. I have, gasp, been painting from photographs.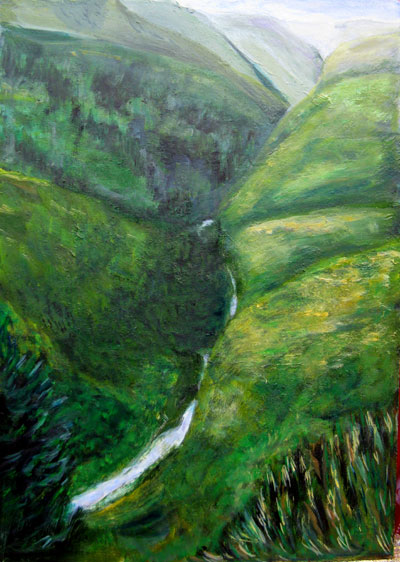 Pine Creek Gorge 2, 12 x 16″ Oil on board, 2008
I have all kinds of reasons to do so: the paintings are for a good charitable cause and are specifically tailored for an audience that will like the subject. I can't get to the landscapes in the photos to paint them on-site (and besides, it's cold outside). The subject matter of the photographs is of a place I grew up in, camped in, swam, hiked, and made love in –  it's a place I know intimately.
The area is in north central Pennsylvania, where the ice age shaved off the land, after which streams cut deep notches, through shale and tumbled rocks, to make cobblestone creeks. The specific subject is the Pine Creek Valley, with emphasis on the Pine Creek Gorge, above which my mother's family farmed (and boarded loggers) and at the end of which (just below Cedar Run) my parents ensconced themselves in their later years. Pine Creek, always called Pine Crick by us locals, runs into the West Branch of the Susquehanna about 100 miles above Harrisburg, near Jersey Shore, Pennsylvania; it is the Jersey Shore High School class of 1960, raising scholarship funds for students, for whom I am doing the paintings.
So doing the work has me somewhat ambivalent: the cause is good; the available photos quite satisfactory, and the subject matter entirely visceral, even from someone else's photos. But it's still painting from photos.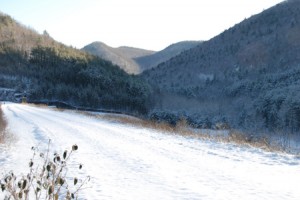 Little Pine Creek Dam, Photo by Charlie Bierly, used by permission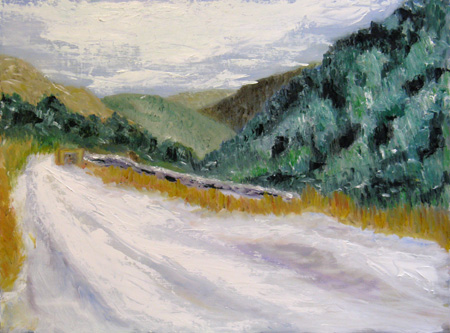 LIttle Pine Creek in Snow, 12 x 16″, Oil on board, 2008.
There were other elements, also, that keep me going. At first I was enticed by the greens, which I remember almost viscerally. These greens are specific to this district, or so it seems to me, having compared them to greens in the Alleghenies proper, the Virgina blue mountains, the Rockies near Laramie and Denver, and western Oregon, where green can smother you. These Pine Creek greens are a different blend of hard-and-soft wood, of limes and lemon greens, avocado and olive hues, sap and davys and veridian paints.
I did some palette studies of greens and then painted (and repainted, and reworked, and painted again) four 12 x 16″ paintings of the Gorge itself.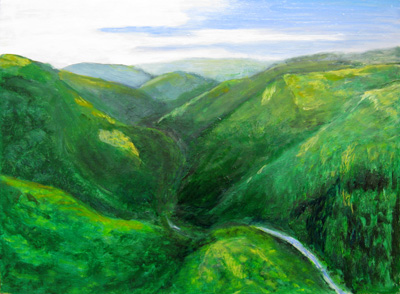 Pine Creek Gorge 3, 12 x 16″ Oil on board, 2009.
I grew a bit bored with green (although I found other variations on the hue as I worked elsewhere) and for a while, consoled myself with tumbling water – rather like painting hair, in fact.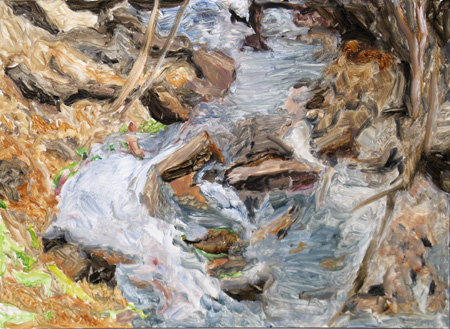 Turkey Track Trail Waterfall, 12 x 16″, Oil on board, 2008
But in my head, I could always hear that inner critic of my imagined, yet quite imaginable critic. I name him my Brother-in-law, but he is, really, just the voice in one's head.
Painting from photos means painting from real places, places that other people have grown up in and camped, canoed, swam, and even, perhaps made love in. They not only know what it looks like, but many of those who will be seeing and judging the paintings will know the Gorge better than I can know it. They will never have left the area, whereas I haven't lived there for forty years. So I can hear, in my head, my BIL saying, "That mountain over there is really further away. And where's the cut for Bear Run? What kind of tree is that, anyway?"
I suspect, although I have no evidence to back this up, that the primary audience for these paintings will be people who may not have had much visual art training (I certainly didn't while I lived there) but will know the land because they've hunted deer and bear and turkey and hiked and camped and biked it for 40 more years than I did.
It's hard to know if this audience will see my brush strokes or lovely variations in color. Maybe they will only see where I've messed up some specific feature.
A further complication is the photos themselves. They were taken by a classmate in the last few years; he rode a rail-to-trails bike path up Pine Creek; the rails-to-trails path runs on the old railroad line, which was on the other side of the creek, the east side, from where I spent most of my growing up. It also ran up the Gorge rather than across the tops of the west rim of the mountains where the logging and CCC fire roads were that we drove around on. So the views in the photos are ever so slightly askew from the views that I remember – not enough to make me refuse them, but just enough to make me uneasy with what I'm depicting. The unknown memories lie there, kicking at me, when I see the Crick bend the wrong way.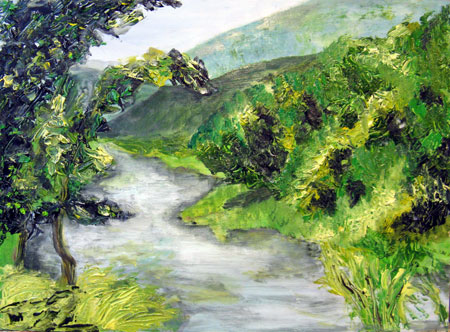 Tree and Crick 1, 12 x 16″, Oil on board, 2008
Photos also don't quite have the detail that I want – they have detail, of course, and more than I'm willing to paint, for the most part, but they don't have the detail I want to paint. And that's because in general, my eyes see differently than cameras do. I'm not much interested in the monocular, totally stable viewpoint (what I called, to Jay's dismay) the "postcard view," of scenes. Multi-ocular, multi-stance, on the fly, just at the moment of movement – that's what I see and what I like to try to capture in my 'scapes.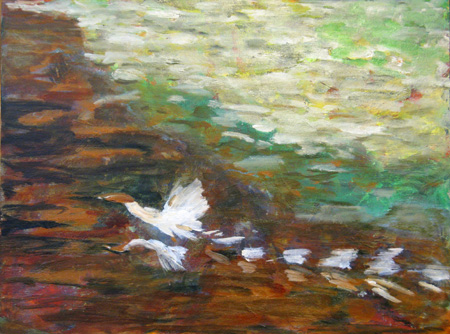 Duck in Flight, 12 x 16″, Oil on board, 2008
So ambivalent I remain. To be "true" to my style, I could easily dismiss the concerns of my audience, who then might not spend money on the paintings — which would nullify the entire reason for doing the work. On the other hand, to be totally true to my audience might, for me, be impossible.
I now have something like 12 paintings of the Pine Creek Valley. I have a couple more realistic ones to do. But I think then, I'm going to head out for something that will come out of the paintings (I'm thinking green, or maybe layers of hillocks) but which will be abstracted and seriously weird, so weird no one will mistake it for anything but intentional. Maybe arbitrary color will be my first attempt. And I know I want to do those hills like Grant Wood's landscapes or foliage like Charles Burchfield.
So I'm compromising, seriously, and in matters about which I normally don't compromise. I said, almost seriously, that I would never paint exclusively from a photo and in fact turned down a lucrative commission (from a quite drunken fellow, I'll admit) to do so.
But here I am, compromising to the tune of many paintings, for the sake of – of what? A good cause, of course. And reconnecting with fellow classmates. And making something of a brag about where I've been since 1960. And finally, perhaps, I'm painting from photos simply because doing these paintings was a challenge, issued in a rather slow time of art-making for me, a time when painting from photos was a release from the guilt of not braving the almost tolerable Portland weather.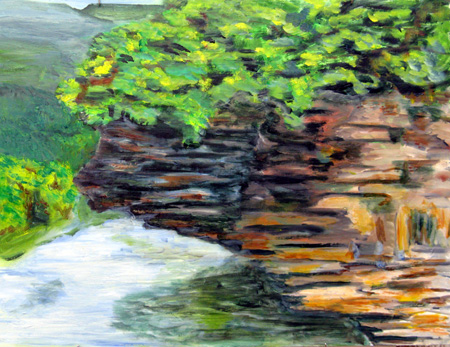 Shale Shelf, Pine Creek Valley, 12 x 16, OIl on Board, 2008
Have you, are you, making compromises? Or under what circumstances would you do do? Would you compromise, for example, your desire for a particular composition in order to explore a particular color, like "green." And how uneasy to you have to feel before you draw the line?