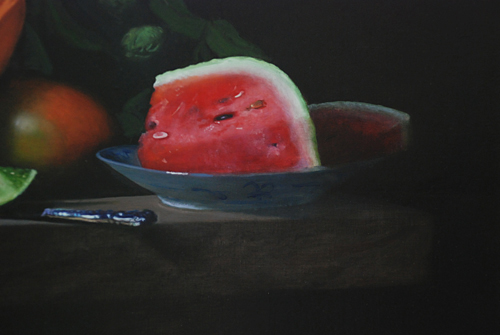 20 x 30 cm detail from 'Longing for Pondicherry', Linen on wood, 70 x100 cm, in progress
Hanneke van Oosterhout just emailed me a detail from her latest painting showing a watermelon resting in an earthenware bowl. When I first discovered Hanneke, she was painting roses. I am able to admire one of them because it graces my dining room. Hanneke's painting shows a yellow rose standing in streaming water while stretching upwards, both lovely and powerfully, with one of its leaves fluttering downwards.
A few years ago, Hanneke changed her motifs, now indulging in her love of fresh fruit and vegetable. She has painted still lifes of grapes, strawberries, apricots and plums with some of them resting in gorgeous china bowls. Looking at these still lifes makes me want to grab their fruit and bite into it.
While one inspiration for Hanneke's still lifes is the lovely color, texture and taste of fresh fruit, another one is the Dutch master Adriaen Coorte.
This week, two paintings by Adriaen Coorte were discovered in a 'drawer' somewhere in Holland. These paintings will be auctioned at Sotheby's for E 100,000.00 to 150,000.00. This past July, Sotheby's auctioned another one of Adriaen Coorte's paintings – THE PROPERTY OF A GENTLEMAN. Thus, Adriaen Coorte's small, carefully balanced minimalist still lifes are becoming pricey.
Does the increasing popularity of Adriaen Coorte's still lifes mean that a representational way of painting is becoming fashionable again?