It's a nice coincidence that Steve and I should both be showing in libraries.
My son Matt, an employee of the Cleveland Heights/UniversityHeights Main Library, passed on the news that the library had prepared some gallery spaces in the old YMCA building across the street. I was urged to contact the appropriate people to get in line as an exhibitor. Before long I was summoned down for a confab to learn that I had a one man show in the offing and a month to get it together.
I had a few thematic options available including the chains, ladders, plastic, plaster and the various oddiments that have appeared on this site. However, some factors constrained my choices. For one, all available walls are equipped with hanging rails which limit the weight of mounted objects and which tend to be visually compromising.  Furthermore, the one dedicated space has a low ceiling, limiting vertical dimensions. The other two spaces are a short wall in the computer room and a reading room which turns out to be the best exhibiting area. These are busy and I had to take into account their public nature. I didn't want to install anything that would tempt people to mess around. On the plus side there is a lot of track lighting.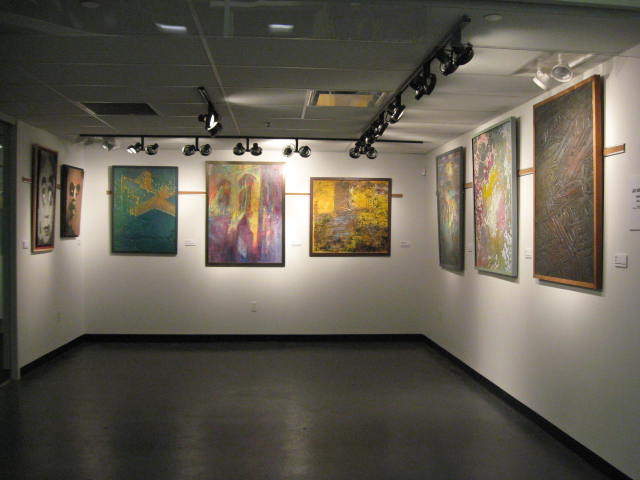 View of main gallery
Turns out that my modest collection of paintings, done over the last ten years or so, would fill the bill. All in all they are the right size and relatively light weight. I then had to hurry up and make frames for a number of them and put finishing touches on others.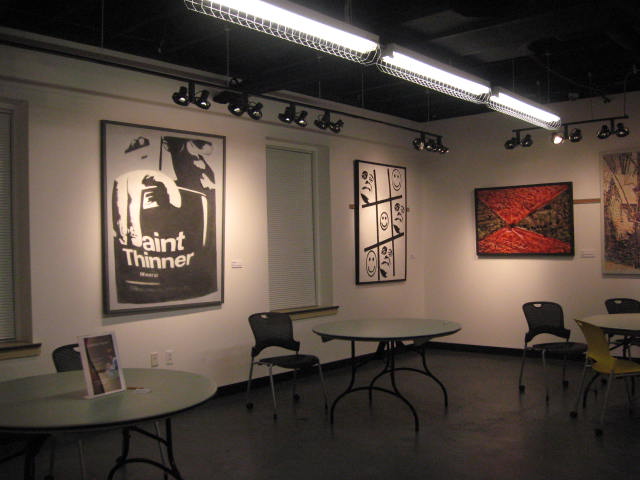 Interior gallery/reading room
The weather was a factor as I had to dodge the snow in order to cut the frames. I was favored with a few good days for prep work and the hanging.  The hanging process was made easier with the help of Aaron, who works at a local gallery, and who provided a lot of good advice and muscle.
The entire process was a bit unusual as it was just the show and me with minimal third-party involvement. The show itself began with the first painting hung.  I was there last night, checking on things, adjusting lights.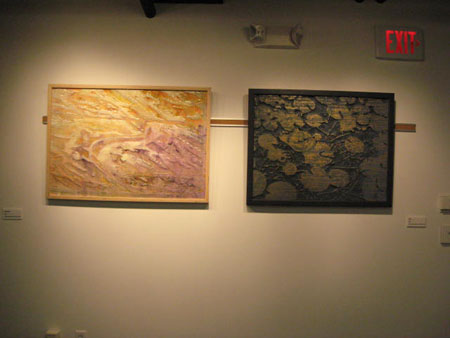 Cotswolds and Lily Pads in reading room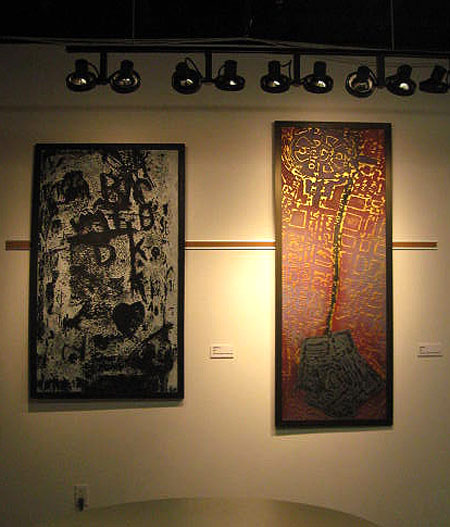 Graffiti and Vaticano in reading room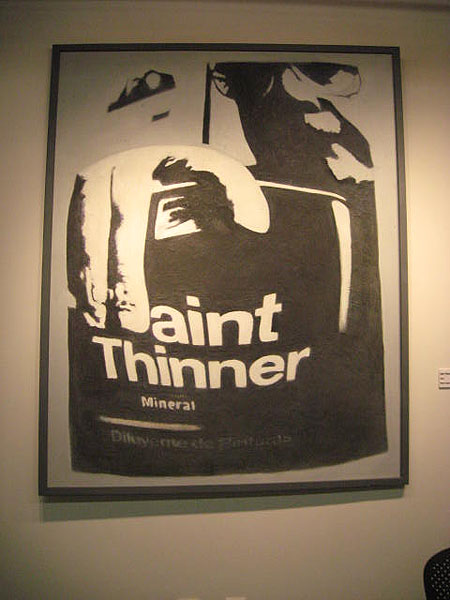 Ain't Thinner in reading room
I have a month to go with this exhibit and am tempted to replace some pieces with fresh material.