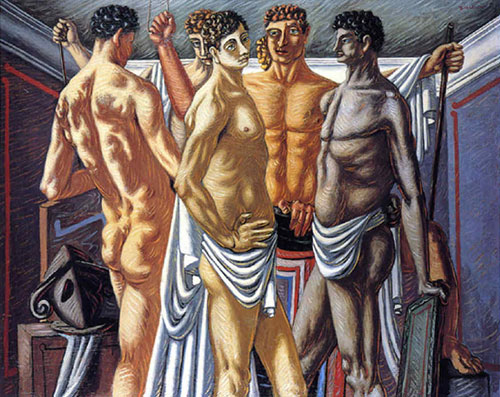 Gladiators at rest (gladiators au repos) 1928-29, oil on canvas, 157 x 198 cm.
In the late 1920th, Giorgio de Chirico was commissioned to create a series of gladiator paintings for Léonce Rosenberg, an art dealer. One of these pieces 'gladiators au repos', designed for Rosenberg's apartment in Paris, is the last but not least piece of the Guggenheim exhibition "Chaos and Classicism". Hang next to a grim painting depicting a military figure on horse, de Chirico's gladiators at first glance give the impression of pseudo-classical Fascist art.
Looking more closely at de Chirico's painting replaced my dark thoughts about fascist terror with amusement. The muscle-rippling gladiators look deliciously bored. It appears that de Chirico was blessed with a sense of humor.
In Wikipedia, as of today, one learns that Giorgio de Chirico was a pre-Surrealist and then Surrealist Italian painter who founded the scuola metafisica art movement. Wikipedia defines scuola metafisica by stating that de Chirico's dream-like paintings of squares typical of idealized Italian cities, as well as apparently casual juxtapositions of objects, represented a visionary world which engaged most immediately with the unconscious mind, beyond physical reality, hence the name. Likewise, from Wikipedia we learn that Léonce Rosenberg is an early advocate of abstract art and cubism who provided moral and financial support for these (its) artists. It appears that people's activity during the early to mid twentieth century are more complex than it is often represented.
It took some more googling to learn of the later activity of Giorgio de Chirico that could be interpreted as 'intellectual romance with fascism' or as a good joke on the politics in Italy between World War I and II.