My latest opus, a duck rushing along the river during mating season: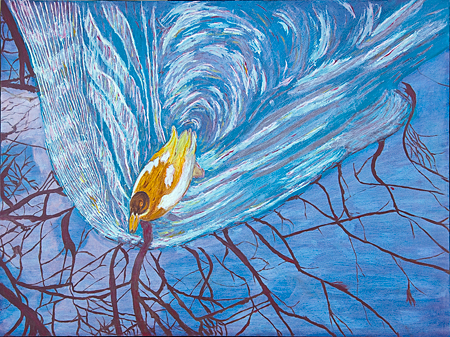 12 x 16, oil on board
Oil painting is pretty exciting for me. Unlike a professional, I never quite know where I will go next or what will serendipously happen next. For example, at first, my duck made its first appearance in lemon yellow with its head surrounded by a white line. Musing on the duck head for a couple of days, my gut feeling was that it must be strengthened with a coat of raw umber. Also, feeling that some harmony had to be created between the still and the churned up water, I remembered that Karl once told me that a glaze with, for example, raw sienna, could smooth out differences in painting style. Whereupon, using Skype, I called Haarlem and reached Hanneke who kindly explained to me about glazing.
I decided to mix Ultramarine blue and Quinacrine red to make dark purple and then, taking all my courage, I applied that dark mixture to my painting. Beginning to wipe off some of the purple, I discovered that white streaks, done by mixing Titanium White with viscous linseed oil did not take on the glaze while the more porous area done by mixing paint with thin linseed oil did. Happily, every step that I take results in a small, new discovery, many of which I probably could have anticipated with some thinking.
Another surprise yesterday concerned the naming of oil paints. Reading about pigment information of my Winsor & Newton oil paints on dickblick.com, I learned that the paint sold as 'Burnt Umber' consisted of the pigment termed raw sienna while the paint sold as 'Raw Sienna' consisted of two pigments termed brown and yellow ochre.
I am prepared for future surprises resulting from my gut feeling, my trying new methods and what the world out there will have in store for me. To educate myself, my friends, I ordered Interactions of Colors by Joseph Albers that you recently talked about.
I saved the duck image for the web and then inspected its color. After I inserted the image into my post, the colors changed, they became somewhat brighter – the turquoise and blue were enhanced. Do you have the same problem inserted color images?