In a few months, I'll be back in Nevada, tackling the Amargosa Playa again. This time I want to do a set of painted panels, five 5×5 foot ones (25 horizontal feet). I have various notions of how this might work out in paint, but will have to wait until I get there to see what actually happens. I also want to do something similar in textiles, perhaps only some preliminary image making, saving stitching for when I return to Portland. But I am mulling over both projects in my mind, trying to think how I might work them.
I just read a blog entry (dated August 17) by Jenny Bowker, who is an art colleague who works in quilted textiles. She tackled the same kind of landscape and had the same kind of hopes about what she might evoke, with some additions that the Amargosa doesn't have: the presence of a handsome driver and some marvelous land forms. Her blog entry, which finishes with the photo of her textile work, is worth reading for sheer pleasure. But it makes me somewhat nervous about my ambitions.
Here's the photo of Jenny's artwork, which won a prize at the Canberra quilt exhibit and, I'm sure, will be seen often at other places around the globe.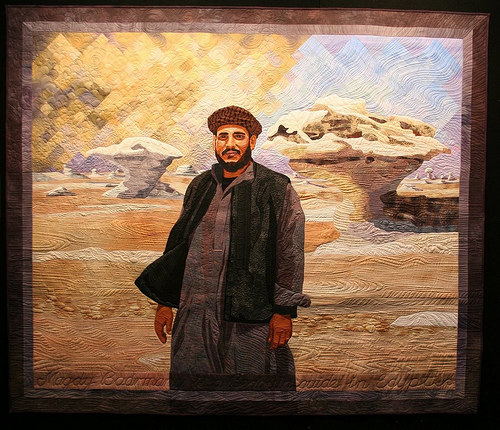 Jenny Bowker, Sandstorm over the White Desert, about life size (see her blog entry for scale)
And here is an photo or two of what I will be facing, again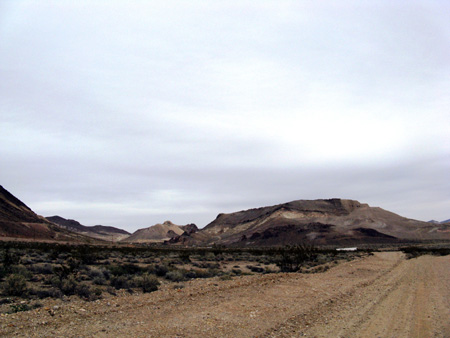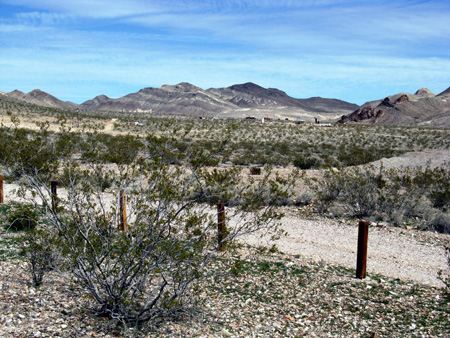 As I said, my desert has no handsome male to feature (although I might dredge one up in Beatty who would fill the bill.) But what I want to project is not so much the beautiful (although I find the Nevada desert is that) nor the humanity (found that appealing too), but the sheer power of the space, with each of its plants having a room of its own, and each fence post and road being a distinct presence: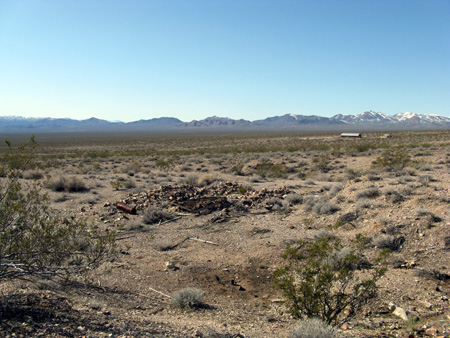 I have the conundrum (I do love conundrums) of wanting to evoke the sense of space by using space, in this case, using a fairly tall (5 feet) and very long, horizontal canvas, filled. But filled how, with what — what will convey this space without sending the viewer into yawns of despair. (An aside: if you've ever driven Nevada over Highway 50, the loneliest highway in the US so-called, you know about yawns of despair).
I would like the painting to require the viewer to walk past it slowly, never quite being able to hold it in her vision all at once. I wouldn't even mind a taller version, but fear I can't handle anything over 5 feet tall. For one thing, we have to get back to Portland after a month, so the canvases will have to roll and fit into the Honda. But beyond that, I'm not sure I have the strength to carry off anything much bigger.
A textile piece that I'm envisioning would be smaller, I think, more like 1 foot by 5 feet. Still the 1 to 5 ratio, which I think may be about right. It would still require some movement on the part of the viewer's head, if not the body, to take in the whole.
And of course, I will be thinking about Rackstraw Downes and various questions of perspective as I work up the painting and textile piece, trying to do work that is fresh to the eye and true to my seeing. There are human artifacts on the Amargosa, including a large talus pile and pond, roads and tracks, and fence posts and telephone poles, many no longer in use. So the vastness of the space has some human presence, but mostly marked by what was there but is no longer. Even the gold mine that made the talus slope is long gone.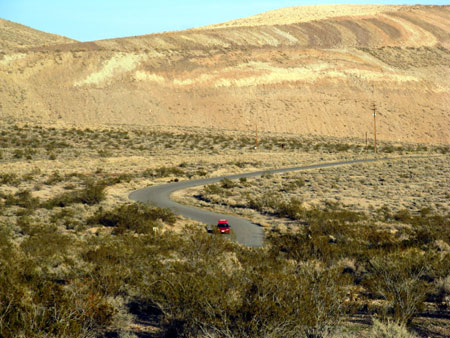 What is there that is thrilling is the light that changes from minute to minute, changing what the eye can make out as well as the colors of land forms and hunks of bushes (the red car in the photo above is our Honda, coming toward the Barn studio, with the talus slope in the background.)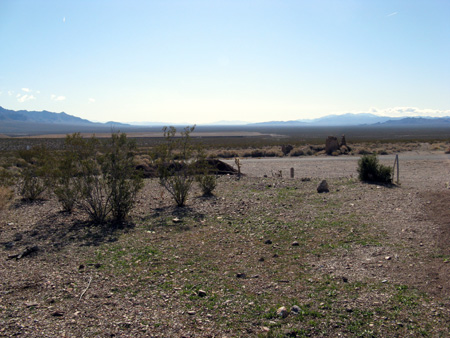 I'm hoping the conundrums will sort themselves out when I'm on site. Maybe they will — or maybe I'll change my puzzles.
Have you faced difficulties of wanting to evoke something that might not be in your power to manage, but refusing to give in to the easier ways? I'm always fighting my stubborn ambition which can come up against unflinching reality. In which case, I give way. But not without a great fuss.