As Steve noted not long ago, perception — how, as well as what, we see and record — is prime territory for this group. Some weeks ago I wrote about painting in the desert, the Great Basin to be more precise, and, even more specifically,  the Amargosa Plain just outside of Death Valley.
After having spent 6 weeks in the desert, perceiving and painting, mostly plein air, I am now back in Portland reading about desert perception in William L. Fox's The Void, the Grid, and the Sign.
Fox has spent most of his life in and around a variety of deserts and back-of-nowhere lands, but in The Void he's primarily concerned with the Great Basin, that large space between the Rockies and the Sierras, where water flows in, but never out, where there is no river coursing to the sea.  He says that outside of Afghanistan, this area contains the most mountain ranges (316) in the world, but there are also 90 basins, places where what little water exists is captured between ranges and sinks or evaporates. The best known of these basins is perhaps Death Valley, although that lies outside Fox's attention. The place I was painting, the Amargosa Plain, is also just outside his wide-ranging travels. However, much of what he says is apropos of the Amargosa and Death Valley.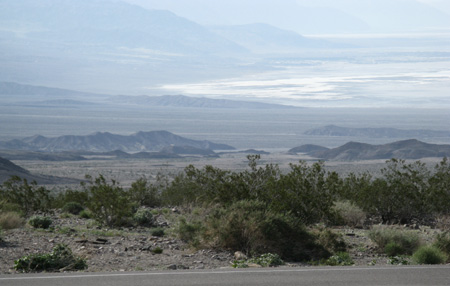 Death Valley at the Beatty Cut-off, March, 2009