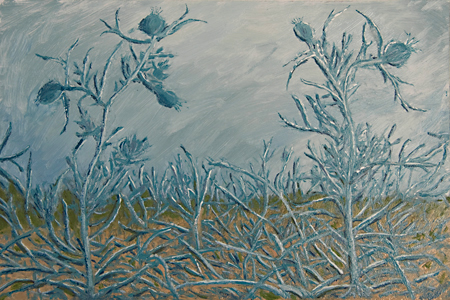 Pitcher thistle in oil and as photo.
To grab a sudden opportunity for my first lesson in Oil Painting, I selected a photo from the permanent 'jewel' collection on my lab top and printed it on an automatic printer in a German photoshop in the largest possible format, 15 x 23 cm.
The first happy experience was that the oil paint nicely adhered to the type of paper on which the photo was printed. Using the photographic image, an underpainting of the blue sky, the edge of green grass and the sand in the foreground was easily achieved.
The second insight, namely that oil paint is malleable, led to ecstasy. The very attribute that I had been apprehensive about turned out to be a heavenly asset – the slow drying of oil paint. Paint could be removed, added and its hue adjusted on the evolving pitcher thistle painting over the next few days.
To generate the thistle shapes, some of paint was now scratched away from sky/sand and the exposed leaves were underpainted with blue-green color.
Two problems came up.
One, the strict adherence to the photographic outline of the leaves resulted in a stiff look. Adding flourishes here and there loosened the stiffness. I realized that I had loved the thistles' zest of life without really understanding it! Learning about their organic growth through making pencil sketches was not feasible because of the very limited time available, just enough to learn basic oil paining technique.
Two, having done an underpainting of most of the leaves, the picture now looked very boring, flat.
Feeling frustrated, I searched among my 'jewel' photographs for a new motif. At this time, Karl provided psychological painting advice: Stick with it and figure out how to make the picture interesting again.
Using my computer, I zoomed in on pitcher thistle leaves to study their lovely hues, different lightness of blue-green, whites, blacks, greys.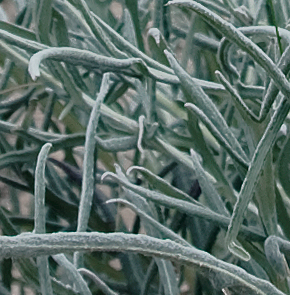 The best, I could think of doing was to deviate from my path of pursuing realism. Painting edges using using darker colors and lighter colors created a mottled look. That approach obliterated the earlier flat, boring look.
Now, back at home, I am making choices. One choice would be to get a gut feeling for pitcher thistles by (1)  learning their characteristic through drawing and (2) learning their beautiful colors by painting excerpts as shown here.
Instead, I decided to follow the advice of my singing teacher from two decades ago 'Do not repeat the same song over and over again, try some new ones' and I selected a photograph showing water ripples. Last night, I did an underpainting of the motif on a proper canvas.
My real love, right now, is mixing colors. The color that I chose for last night's underpainting resembles that of a favorite T-shirt way back. I am now liberated from fashion designers, I can invent my own hues.
For at least a decade, I had thought of trying my hand at painting. Did you have a similar experience that some new experience suddenly opened up for you?