Two points of interest are
(A) Art inspired by Barack Obama.
(B) Will the 2009 Economic Stimulus Package address unemployment among artists in analogy to the Federal Art Project, part of the Work Project Administration (WPA) created by Roosevelt?
(A) Quoting Rob Walker, New York Times:
Whether or not Barack Obama would make a good president, it's clear that he makes an excellent muse. It's hard to think of a political candidate in recent memory who has, in real time, inspired so much creativity, exercised free of charge and for the campaign's benefit. Perhaps this suggests something about Obama — or maybe it suggests something about his supporters.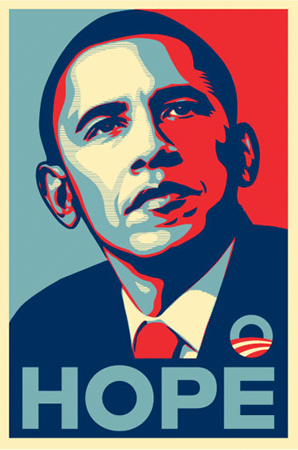 Shepard Fairey created this limited edition print of Barack Obama in an effort to fund a larger street poster campaign, January 2008. Fairey is one of today's best known and most influential street artists. He sits on the advisory board of Reaching to Embrace the Arts, a not-for-profit organization that provides art supplies to disadvantaged schools and students. more… »