In a site called "Hold this Thought" Tom Livingston (Between Silence and Light) quotes architect Louis Kahn:
Architect Louis Kahn's writings about daylight resonate with me. Here he talks about the nature of a room and its natural light:

"The room is not only the beginning of architecture: it is an extension of self. If you think about it, you realize that you don't say the same thing in a small room that you say in a large room. If I were to speak in a great hall, I would have to pick one person who smiles at me in order to be able to speak at all.
…
Also marvelous in a room is the light that comes through the windows of that room and that belongs to the room. The sun does not realize how wonderful it is until after a room is made. A man's creation, the making of a room, is nothing short of a miracle. Just think, that a man can claim a slice of the sun."
http://www.holdthisthought.org/blog/index.cfm/2008/12/23/Between-Silence-and-Light-Tom-Livingston
I'm rather addicted to painting plein air, but the weather in western Oregon is more like eastern Kansas (ie snow, ice, slush, ugh!) right now. So I've been painting from my windows, which frame various neighborhood views and foliage. But the Kahn quote also gets me to thinking about the nature of rooms, which I haven't painted.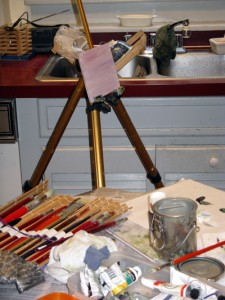 This is the unprepossessing set-up in my kitchen. The reason for painting in the kitchen, in spite of the traffic and the high window, is that the best tree in the vicinity faces the sink. It is a continual source of happiness to me — to be cleansing the cutlery while gazing at the ancient face of the huge cherry, with all its anciliary objects — squirrels, hanging plants, pots on the fence that leans against it.