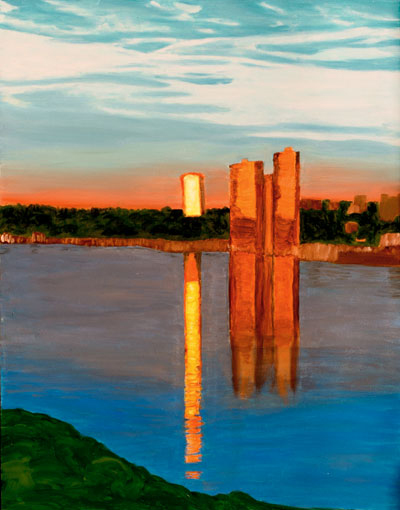 This painting captures the sunrise at the Hudson River in Manhattan. At 7:00 am, April 4th, the rays of the sun bounced off the buildings on the New Jersey side and then reflected within the Hudson itself. The early morning sun produced a different lighting than the midday sun in my Sleeping Bear Dune picture. In my Dune picture, the light across the picture is quite flat. Contrast is achieved by using bright complementary colors, red and green, blue and orange.
Here I am comparing these two paintings posterized to level 4 in black-white. The early morning picture of the Hudson River (right panel) has a more extensive differences in tone than the midday picture of the Sleeping Bear Dunes (left panel).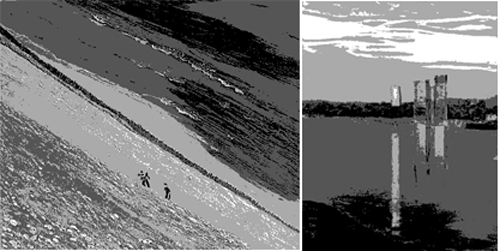 Yesterday, I looked at light and color combinations in various paintings at the Metropolitan Museum of Art. Many paintings showed pronounced differences in tone while others made more use of complementary colors.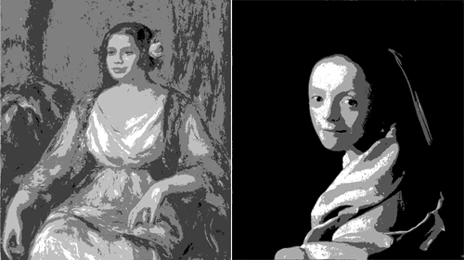 An example of a painting with a pronounced difference in tone is Vermeer's 'Study of a Young Woman' (right panel). There is no point in showing the painting, copied from the MET website, in color. The cloth worn by Vermeer's young woman is a lovely cool light blue, not grey as the website shows. The photo of Vermeer's painting, like that of my painting, is posterized to level 4 in black and white.
Renoir achieves contrast in his painting of Tilla Durieux (left) using vivid complementary colors which is again not obvious from its poor color of the photo on the MET website. The wall behind Tilla is vivid red and green. Likewise, her clothing and rose repeat the bright red-green colors.
Thus, it seems that, in case of even lighting, complementary colors can make a painting more interesting.