Every once in a while an artist comes along, pokes fun at our prevailing world order and gets away with it – even managing to sell the works exhibited – using satire as a scathing tool. In William Powhida's work, he satirizes the ephemeral nature of the art world in an exhibition underway at Schroeder Romero in Chelsea. I had some time yesterday afternoon and decided to go by to Schroeder Romero to take a look at the commotion and I was not at all disappointed. William Powhida combines elements of painting (graphite and gouache is his medium of choice) and merges MAD comic style satirical musings on the art world in a tight graffiti format that really makes you think. I was reminded of Banksy's writings when I came across his paintings (if you want to call them 'paintings'). Of course I was also reminded of those list formatted chain emails which manage to look at life in terms of ordered lists…
A drawing that caught my eye was the one where he laid out a set of rules for the artworld… Some of the 'rules' are reproduced below… (the punctuation/grammar has not been changed to reflect Williams' work)
If you want to SELL this shit make it just like someone else whose ALREADY sold out Why?!  A. Your dealer has a famous artist to compare you to B. It validates said sellout's career. Collectors love that!

Ten years or ten minutes of work can sell for a million

Anything can be 'editioned'. Repetition is your friend

Don't make your 'pitch' at the gallery (or BOOTH). Follow the dealers to the BAR. You might get a show and a FUCK.

Once you do sellout make the same thing until the market collapses. Think 'reiteration' and 'variation'. THAT HELPS!

Serious artists trying to make 'art' should be prepared to labor in OBSCURITY for twenty years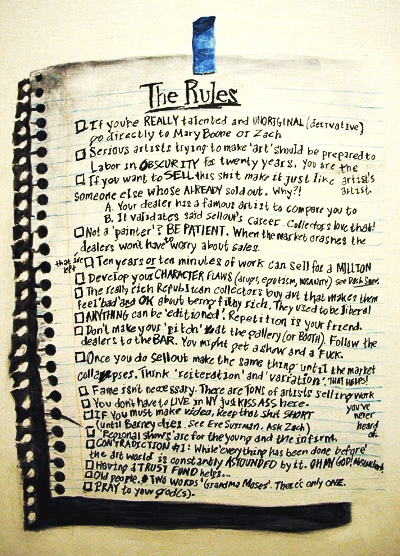 William Powhida The Rules 2007 graphite and gouache on panel 24″ x 18″
Another highlight of the show was an imaginary rendition of the future cover (2010) of the New York magazine (and 'drawings' of the complete article) that chronicles William's eventual rise to stardom in 2010.
 
William Powhida The Bastard 2007 graphite and gouache on panel 44″ x 54″ 
His artist's statement contains a playful but keen taunt to the publicity and glam that surround the artworld:
"my one man SOLO show, opens May 11th at Schroeder Romero.  Those bitches hos HOOKERS, excuse me, are ecstatic to present my new work, which is destined to confirm my GENIUS and secure my reputation as the greatest artist ever.  Now, I know that sounds a little presumptuous on my part, after all I haven't been reviewed in The Times or sold anything to Saatchi, but it is true, I promise." Read more here.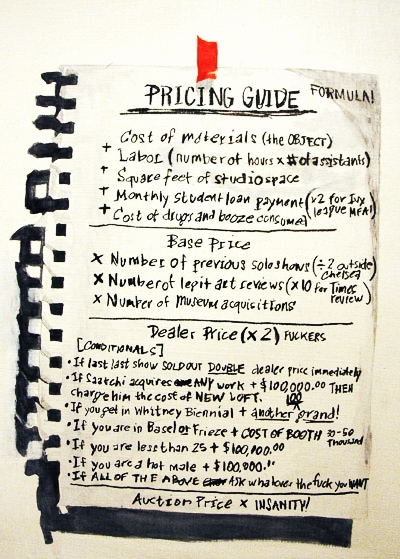 William Powhida Pricing Guide 2007 graphite and gouache on panel 14″ x 11″ 
By laying bare elements of the art world in such an unsettling manner to the viewer and having the courage to exhibit this is very brave – both on the part of the artist as well as the gallery. Most of the works were sold out – very well for an artist who is only in his 20's.
On reflection, our world sure is a funny one. His art (which are in the thousands of dollars) and the perception it generates is interesting to think about – the former (his art) is nothing much to speak about, just a bit of carefully laid out graffiti on masonite. The perception it generates is affirmation of the fact that the artworld is indeed topsy-turvy with some of the 'rules' being brutally true whilst the fact that the works having been sold out also means that buyers do not really care the situation the artist was trying to satirize. Interesting indeed.