Recently, I had a good showing at an arts and crafts festival near my house and I blogged a bit about the show here. What caught my interest peripherally during the show and more as I think about it now was the prevalence of crafts into shows like these and the dilution of the power inherent in the crafts by the artisans that create these crafts by purposely subverting their wares to dress them up like art. Let me explain. Close to my assigned booth, I met this charming lady (she is actually trained as a silversmith) who made jewelry. Her booth was crammed with styrofoam busts of women wearing custom designed jewelry and the whole setup looked really nice and beautiful from far. During short breaks from the steady stream of visitors, I would go by her booth and marvel at the designs that she created in silver and grimace at some designs that she created out of glass/silver. The silver creations were exquisite, the design fetching and the pieces very compelling to look at and buy (in fact I even asked my wife to look at a piece but she later chided me on the price). The jewelry made of painted glass beads on silver strands with the glass over painted with strange designs seemed lower in quality compared to her silver works. On asking her the price of the painted bead based jewelry, she explained that she was slowly branching out into 'art' and the prices for these were almost double the prices compared to equivalent silver pieces. I remember walking out of the booth with a strange feeling in my head.
 
Firstly, the painted glass pieces with a bit of silver strands were not good as the hand made silver pieces (from a purely aesthetic perspective) but they commanded extra prices because they were considered 'art'.
Secondly, it looked like glass was being used for a purpose for which it is not inherently suitable – glass is great when blown or stained, but when it is hand painted and added along with other beads to make tacky jewelry, it loses the freshness inherent to glass and it makes for bad craft.
It almost seemed like the market forces that congregate around 'art' is pushing people to create work that is substandard and at the same time giving them less time to be more creative at what they are trained and good at… At the end of the day, I also understood that she sold much more silver pieces than the 'art' pieces.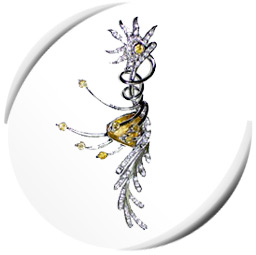 Sterling silver jewelry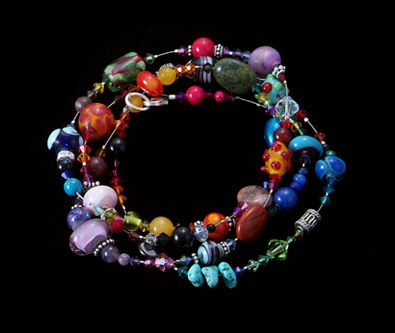 Necklace of glass beads
I was wondering why does she want to dress up her exquisite works under the word 'art' when her 'craft' can speak for itself (and very eloquently)? Why are craftspeople not proud to say that their work is 'craft' and keep trying to pay obeisance to art and try selling their works labeled as art? Is there a perception that when works are referred to as 'art', they are automatically elevated to another plane all by itself? Shouldn't craft be on an equal plane? Is the word 'art' and by extension 'artist' over-hyped?