On August 23 I finished the seven-panel plein air oils of The Diamond Grade. On September 10, I'm still working on putting together a small card with a fold-out version of the panorama. This is a project I thought to complete in a couple of hours. Instead, it's taken weeks.
There was the question of the size of the images. And the paper onto which they would be printed. And which printer. And then it was clear that without some kind of cover, the images, folded into rectangles, looked a bit like the notes I passed to friends as a  sixth-grader. So I had to find a cover. And then the images sprang open inside the cover, so I had to find a way to fasten the cover, a way which could be undone and redone, without too much damage. I had a bunch of Moo cards that I am currently enamored of that I wanted to include somehow.
Here's the photo essay of the process:
The original strip of images:

After trying out samples of 3″ and 4″ sizes on my HP ink jet printer and 2″ sizes on my Epson pigment printer, which actually could handle up to 24-inch wide strips, I decided to go with Kinko's laser printing service.
Now I want a laser printer.
I needed to identify the images (and myself as maker of them) with some text and ultimately consulted with a graphic designer and good friend. Good thing I did, too. She's the one who got me to Kinko's, who made up the pdf file for Kinko's, who suggested a fine font, and who resized slightly the images to get the most for my money. A good professional is worth a thousand painful choices.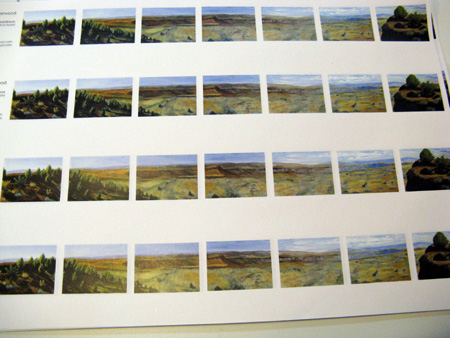 Then there was the cover. I decided on a stiff polyester interfacing called lutradur, which looks a bit like rice paper: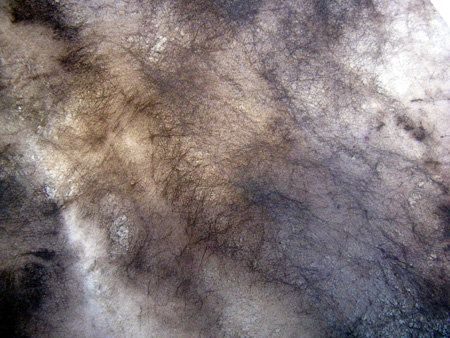 I had lots of the stuff, but most of it was white and I like the way it takes fabric paint. To get this effect, one ("one" meaning me) spreads out the folded lutradur on a table, brushes the fabric paint over it, sloshes on water so the paint goes through the layers underneath, puts on more paint, sprays on more water, a bit more paint here and there, and then realizes that all four sides of the table are pouring down water and fabric paint. There's a reason my studio has ugly plywood floors — so I can decorate it with sloshes of over-runs.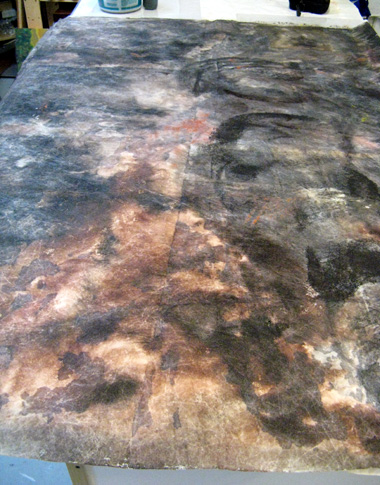 Having cleaned up the floor mess, I went back to thinking about the covers and decided to try some other papers I had stored around the house.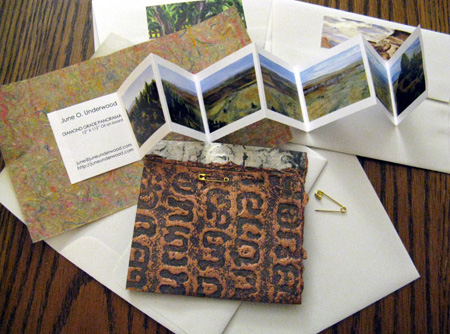 Although some worked ok, the most serviceable was still the lutradur. Then the fastening of the card, so the folded strips didn't sprong open, became an issue. After trying a variety of techniques, all dorky,  I decided that PoMo (Post-Modernism) would allow for one satiric element — a safety pin closure with the Moo Card on the outside of the envelope.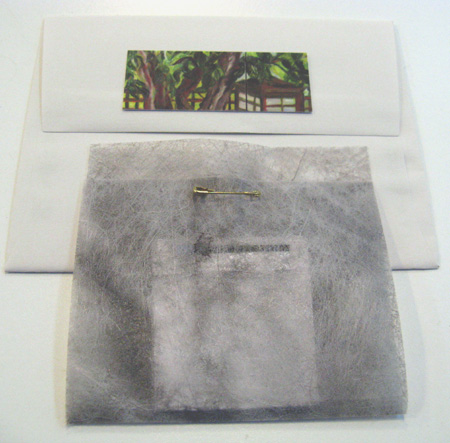 Yelps of outrage over the safety pin from both Jer and Terry, the graphic artist, sent me spinning again. It had been at least 3 weeks into this project and here I was, circling, again. I dug in my heels, scowled, sulked, grumped (but only to myself in the privacy of my studio) when Terry saved the day again.
This is something like the final product, with a even more elegant fastener yet to be inserted (she said with eternally springing hope):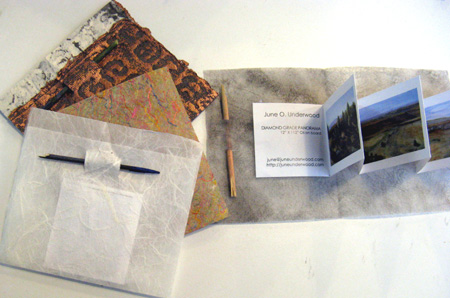 These are the latest versions, with the lutradur one open, and the samples of other paper covers shown. The broken skewers, found in the basement as 2 foot long rods, will be replaced by something called "Interdental Stimulators", which sounds silly and satisfies my PoMo irony entirely. They also look elegant, like flat bamboo fasteners. Another Terry find. Jer is out looking to buy them at this very moment.
And so is (almost) finished the tale of three weeks work on a two hour project. Done with a little help from my friends. I don't know if I engaged in the project because I really really wanted to make these dudes or because after the intense painting in the Oregon desert, I wanted to procrastinate and not paint again.
Tell me, do any of you engage in two-hour projects that take 3 weeks and hundreds of bad decisions (before reaching good ones)? And why do we collectively engage in these kinds of frustrating, perhaps failing, efforts, which cause us to rend our hair and irritate our loved ones? Is it neurology, biology, or stupid stubbornness?
And the PS you were waiting for:  Rite Aid has discontinued its elegant wooden Interdental Stimulators for depressing (and probably more dentally effective) white plastic ones. Jer did find some smaller wooden versions that will work, if, when I immerse them in a bit of watered down paint to get rid of the hideous orange color, they don't disintegrate. I swear — today is the last day I'm going to work at this project — except for the production line (me, myself, and I) cutting the strips, gluing them down, gluing on the moo card, and inserting (hopefully) the wooden flats.
Anybody want a card?
PPS: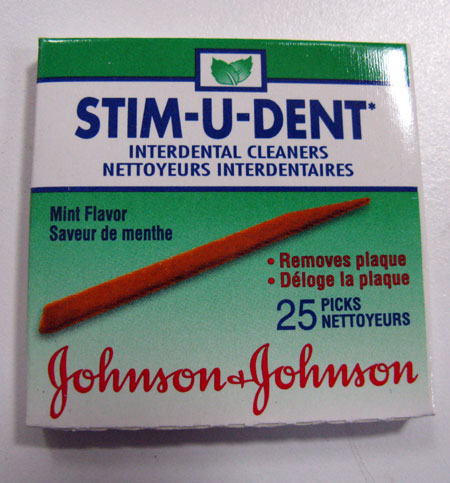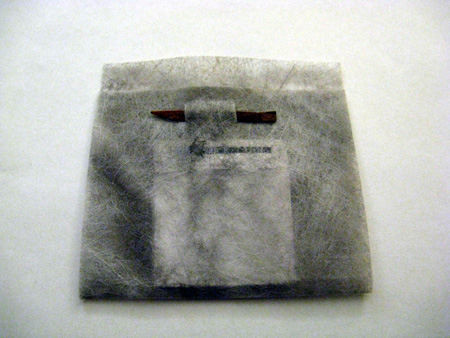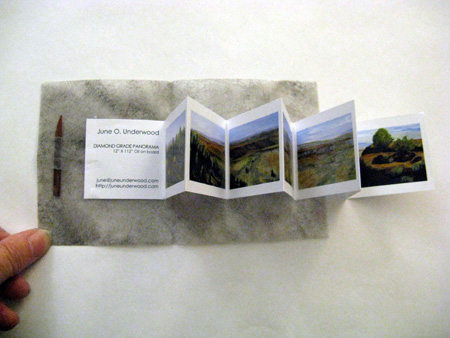 Aaaaahhhhhhhhhh!