I feel as if I have been away forever. Life overtook my Art and Perception, although not completely my art and not completely all my perceptions.
So here's an update.
After a long struggle with health and painting, I've finally revived and have been painting the landscapes of the Willamette Valley in western Oregon. The change of venue from the wild and awesome desert to the gentle scenery of the Valley was fairly traumatic and also the cause (I think; I hope) of some really bad paintings, now discarded. But I've kept a few and think I may be able to tolerate the pretty landscapes and conventional views to which I've been subjected. (I'm engaged with a group of plein air artists who always choose not to paint the snarky or sardonic.)
The paintings imaged below have been done since the end of June. The first four (through the Storm) were attempts to provide a sense of expansion outward rather than focusing into the painting. This outward away from the center is what I feel the desert does, and I thought painting sky and/or water might keep me in touch with that expansion of space so essential to desert painting.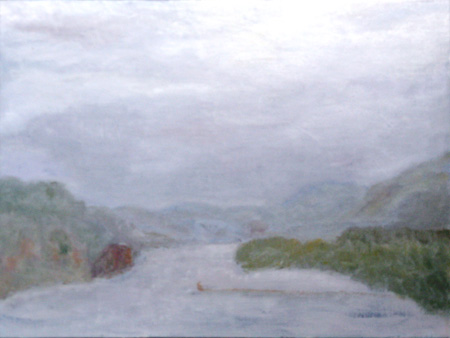 Morning Fog in the Gorge, 12 x 16″, Oil on board, 2009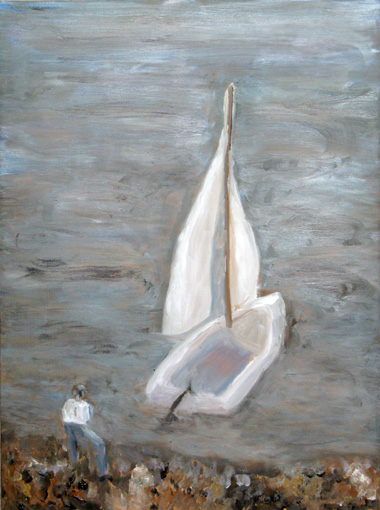 Sailboat on the Mighty Columbia, 12 x 16″, Oil on board, 2009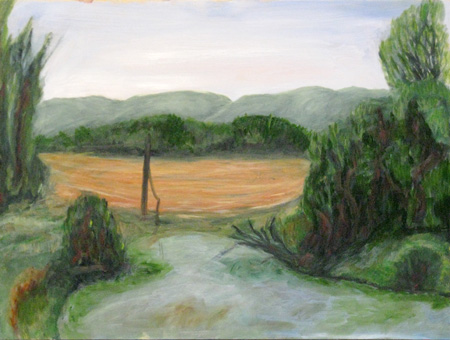 Oak Island on Sauvies Island, 18 x 24″, Oil on board, 2009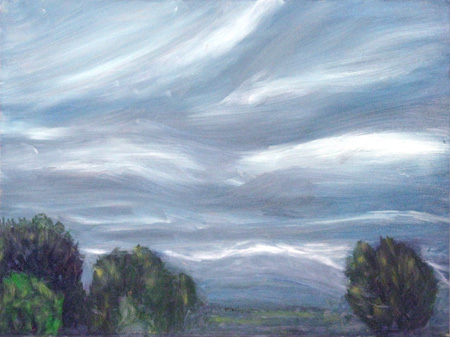 Storm over Sauvies Island, 12 x 16″, Oil on board, 2009
Then, I spent four days last week in Vancouver, BC (Canada) and chanced upon an exhibit of Emily Carr drawings at the Vancouver Art Gallery.
I've long been a fan of Carr, although she was very poor andpainted on brown paper with oils thinned with gasoline. The original paintings are almost always a disappointment because they have deteriorated over the years.
However, the Vancouver exhibit was of her drawings, and frankly I was stunned by them. (I had gone to the Gallery to see an exhibit of 17th century Dutch paintings, which were quite exquisite, but none of them stunned me). I returned to Portland to the centennial celebration of a pleasant park on an extinct volcano in my neighborhood. It's fairly large, almost entirely treed, with some very distant vistas and three reservoirs. Before I went to Vancouver, I thought painting Mt. Tabor was a challenge I was likely to fail to meet. I was reduced, prior to last week, to painting gates: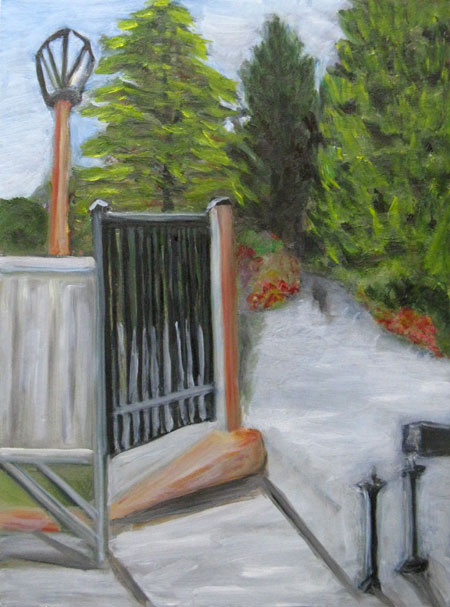 Salmon Street Gate, Mt Tabor, 12 x 16″, Oil on board, 2009
And pictures of the "mountain" from a distance, with lots of city flotsam: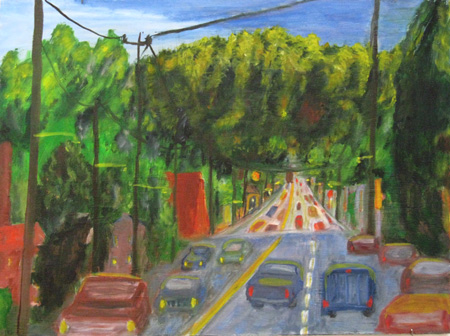 Mt Tabor from Hawthorne and 28th, 12 x 16″, Oil on board, 2009
(There's another, larger, version of this which I think is better, but haven't photographed yet)
However, after seeing the Carr drawings, on Saturday I tackled the forest that is Mt. Tabor's proudest achievement: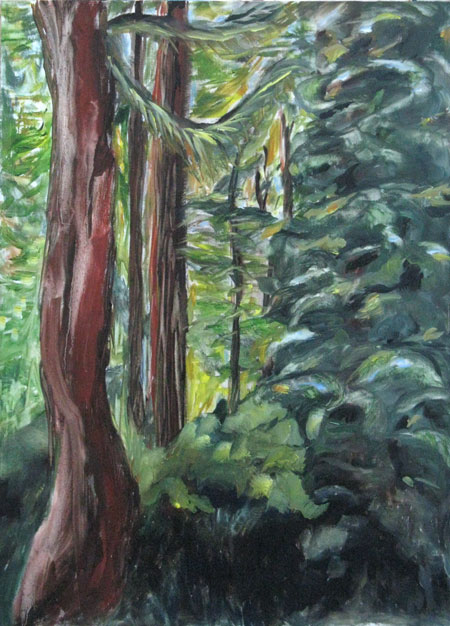 In honor of the Mt Tabor Centennial 1, Oil on board, 12 x 16″, 2009 (draft1)
In Honor of the Mt Tabor Centennial 2, 12 x 16″, Oil on board, 2009
And among the gentle conventional landscapes, I managed a few Underwood whacks: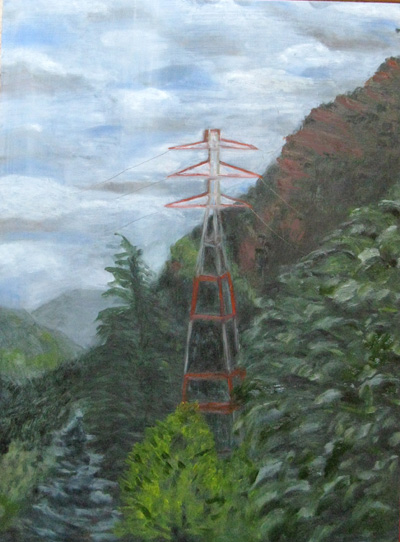 Bonneville Artifacts, Columbia Gorge, 12 x 15″, Oil on board, 2009
And before I took on the gentility, I did some plein air city work, which seems more like my old self: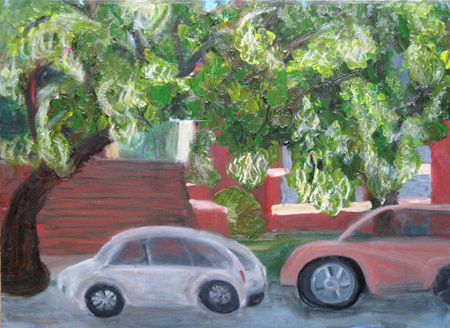 The East Branch, Portland Public Library, North Side, 12 x 16″, Oil on board, 2009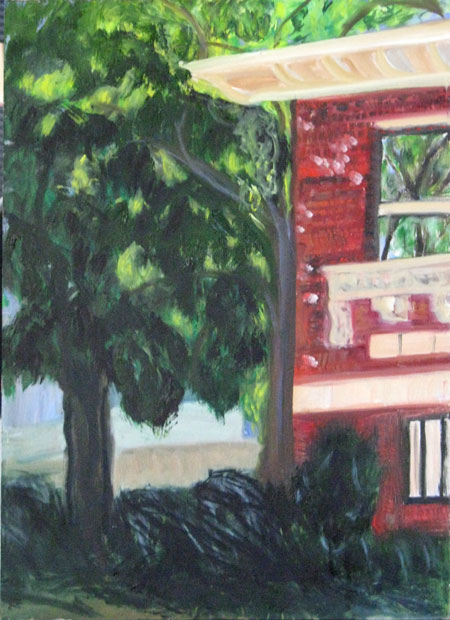 The East Branch, Portland Public Library, West Side, 12 x 16″, 2009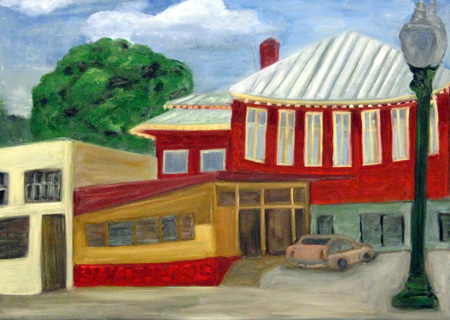 The East Branch, Portland Public Library, South Side, 18 x 24″, Oil on board, 2009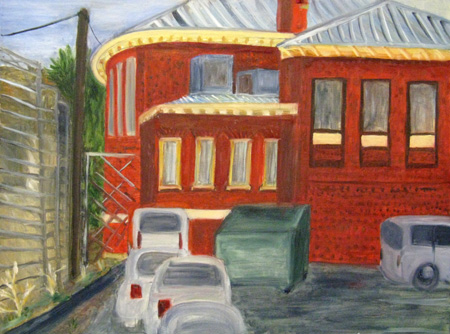 The East Branch, Portland Public Library, East Side, 18 x 24″, 2009
I did another painting of the front (the north side) of this building from a photograph, mostly so I could paint (and hence capture in my brain) the front of the building minus the trees. The East Branch of the Portland Public Library was built in 1911 by a locally prominent architect who also built the central library, which is still in use and still quite magnificent. The east branch has fallen onto lesser times, having its large open central hall (a requirement of all Carnegie funded libraries) divided into two floors. Only the rear rotunda, truncated to make a very strange room, was left intact.  The paintings were done from awkward spaces — the last from the edge of a parking lot that bordered on a plaid pantry; the first in a parking lot next to a cement block commercial building. The south side shows the rear of the library behind the Coffee Systems company, also in a cement block building. Two major streets, 11th and Morrison, border the block on which the library stands and to its east is the Rimskykorseykoffee House, which resembles a haunted bordello.
All this is to say that while I was placed by my group in gentle breezes and loving landscapes, when I could I escaped to my natural milieu, the snarky somewhat sardonic city in which I really live. I even am thinking of doing one of my wild studio composites with that wonderful ironic ex-library.
And how are you spending your summer creativities? Snarky or genteel? Admiring the river as it rolls by or watching the semi's, rolling toward the center city?
Jer and I are, god willin' and the crick don't rise, returning to the desert, to Beatty Nevada, in November, for another go at the Amargosa Playa. I have notions that have nothing to do with comfort and pleasing vistas. Although the vistas of the desert are, in my perception if not my art, very pleasing.