At the request (advice/direction) of my oil painting instructor, Jef Gunn, I have gone out on the streets of Portland to paint. Luckily the weather has been relatively decent, although cold if one is catching morning shadows. But the experience has put me in the midst of the community, and a grand experience it has been.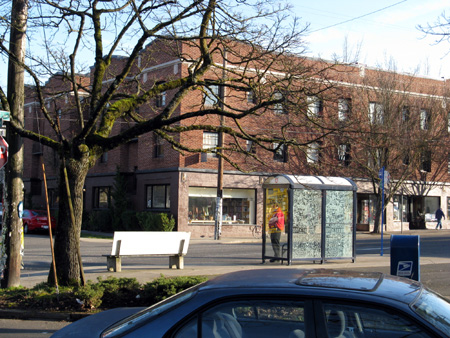 I am discovering that one of the most fulfilling aspects of painting is having the casual onlooker weigh in, discuss the weather, make silly comments or just say "hi." I didn't realize until the Basin experience how much having a bit of interaction with the community could mean to me. The Portland pleine aire work that I've been doing verifies that social contact enhances the pleasures for me of slapping color on board, smooshing substances around until they come to mean something, and personal ruminations about the view.
A recent article in the Oregonian's In Portland section featured artist Benjamin Alexander Clark, "guerilla painter' who seems also to thrive on community.
Clark, 37 years old, lives in a house jammed with art, including a framed hole in the ceiling. He's a carpenter by day and a mosly portrait painter by night; each painting, he says, has a story. He has worked as guest artist at P:ear, a nonprofit for 15 -to 23 year old lost souls. He paints the clients and when a painting sells, he pays the subjects a modeling fee. He also donates paintings to the Cascade Aids Project, Children's Heart Foundation and Project Quest. He paints in oils and acrylics on reclaimed objects like doors and tabletops. His work is often sentimental, but at its best, the reviewer said, he grasps essentials about his subjects.
"'When I'm painting, the art is totally between me and God,' he says (rolling a cigarette), 'As soon as its done, it's a commodity . It's for sale or I give it away. The art is over for me.'" When the house gets to full, he distributes the art — giving it to friend, donating it, or installing what's left around the city.. He puts his art on power poles, on a wall plastered with fliers, and hands it over to homeless people. Sometimes he rubber stamps his paintings: "this is not art." He's willing to sell his art, but also shows in off-beat galleries. Sometimes the art gets beat up by the weather; more often it disappears, along with the folks who have received it. Sometimes Clark re-paints the weather beaten pieces and re-establishes them
Along the way, it's clear that Clark takes possession of the city by giving it his work. He establishes contacts, jives with the locals, chats up the dear old ones, and simply engages whatever drifts into his path. He's a psychogeographer whose work and placement are linked to the geography by chance, by the accident of his finding and the incidents of his painting.
This sounds to me like my kind of fun. Today I met the owner of a house that I've loved since about 1995. It's a pink and green cottage on a commercial boulevard, holding out against the city's desire to buy the property and build a community center.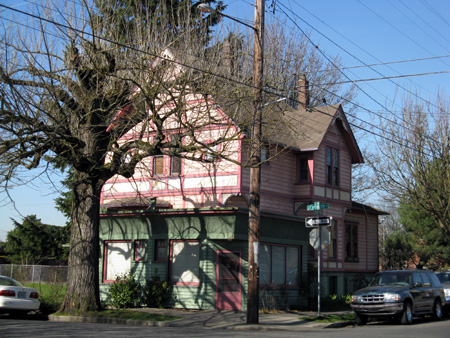 I knew it when it had doll houses in its storefront, which now is the studio of its videophotographer owner (his wife did the doll houses). I've painted it twice and I'll paint it again until I catch its stubborn whimsicality in the context of Morrison Street, a heavily traveled primary boulevard through the residential Buckman district.
I also painted the bar diagonally across the street from the pink house. I was told by a voyeur that my painting of the bar was "sweet." That makes me need to go back and capture something of its archeaological grittiness, its past when it was the Morrison Street Tavern and reeked of stale beer and cigarette smoke and left its doors open so I could look in at 10 AM and see the drinkers, nursing their hangovers. Now, the bar is called "Crush" and is a yuppified lesbian hangout, very much a power place, if not a power point. But I still smell the old ciggies when I walk by.

I've been congratulated on painting in the streets, observed sideways by the workers at the local soup kitchen and emergency services center, and laughed at for tryng to make the residential "traffic calmers" (roundabouts) into objects of aesthetic interest. I froze my fingers, greeted any number of down-and-outers, am learning the subtle differences in neighborhood denizens, and in short, am becoming, because I'm plunked down for a couple of hours in front of an easel on a sidewalk or piece of grass, a psychogeographer.
I also found Mary Scriver's comments about Power Points on Steve's recent Art Walk post intriguing: Power points as Mary describes them — "the basic set: the highest, the lowest, the entrance, the crossing, the edge of water or a change in vegetation or terrain, transition points, fork in a path."
I think I'm stubbornly ignoring "power places." I want the place to be "chosen" by "drift," by whether I'm too tired to walk further or the scene is blocked by a car or today a skyscraper feels like it would be fun to paint or the dog walks in front of my studio window. I don't choose my elements by the composition they make — I choose them because of some chance, yet felt, interaction between the scene and myself. Then I have to find a composition that matches the interaction, however awkward or unpretty. In that sense, I suppose that I am trying to make visible the interaction between the scene and myself, rather than making an object that qua object.
Which then brings up the perennial question: for what audience or purpose does the psychogeographer engage — herself? –the neighborhood? –the world that needs to see that artists don't necessarily have to travel in metal containers to wide vistas to make art? –Some conception of what art should be? –Or just for the heck of it, drifting along until a brush (or camera) appears in one's hand and a vista opens up and a fine interesting face calls out for recording? Clark paints for himself — and then discharges his duty to the universe by giving it up. I paint to understand what I am confronted with — and I haven't yet decided on how to discharge my duty to the universe. But I did put a painting outside where it could be snatched up by a local burglar. Thus far no one has taken me up on my offering.